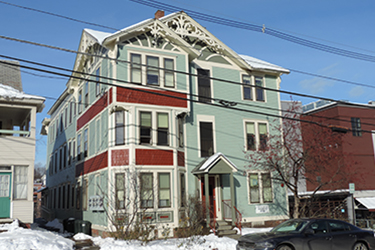 Federal and state rehabilitation tax credits help to stimulate private investment, create jobs, restore historic buildings and jump start the revitalization seen in Vermont's Designated Downtowns and Village Centers. Successful projects range from small bed and breakfasts and rental apartments to multimillion dollar downtown redevelopments.
Applications for the next round of Downtown and Village Center tax credits are due July 1, 2019. 
New This Year - the Downtown and Village Center Tax Credit Webinar:
In addition to the written program guidelines, applicants are encouraged to watch the Downtown and Village Center Tax Credit Webinar when working to complete an application for funding. Along with basic information and general guidance about the program, this 27 minute video reviews the program's recently updated scoring criteria which is used to evaluate and score applications. The webinar discusses sample responses and coveres information about required attachments which must be submitted with every application.
Additional resources:
What is a tax credit? 
While not cash or a grant, tax credits essentially redirect income taxes owed to help pay the construction bills. For example, if your tax bill is $10,000, a $4,000 credit will reduce your tax bill to $6,000. Credits are available from both the federal government and the State of Vermont. 
Does my building qualify? 
What work qualifies? 
Federal and state tax credits support general rehabilitation, code compliance, and exterior improvements. In some cases, projects may be eligible for both the federal and state programs. Both programs are designed to enhance the historic character of Vermont and use the Secretary of the Interior's Standards for Rehabilitation to assure changes are sensitive and appropriate. For specific advice on a project, staff is available to meet on site and discuss how the Standards apply to individual projects. To schedule a meeting, email Caitlin Corkins or call 802-828-3047. 
Learn how tax credits can revitalize buildings and breathe new life into your community, in a new economic study sponsored by the National Park Service - Catalyst for Change.