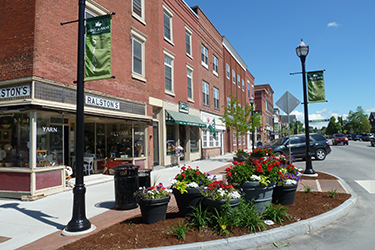 The Downtown Transportation Fund is a financing tool which assists municipalities in paying for transportation-related capital improvements within or serving a Designated Downtown and eligible Designated Village Centers.  Investment in the infrastructure of public spaces stimulates private investment and creates a sense of identity and pride in Downtowns and Village Centers across Vermont.  Since its inception in 1999, the program has invested over $13 million to support 151 projects in 32 different communities leveraging over $54 million in additional funding.
2022 Downtown Transportation Fund Awardees
In 2022, over $2 million was awarded to 15 Designated Downtowns and Village Centers. Projects include streetscape enhancements, parking, rail and bus facilities, bicycle and pedestrian safety improvements, street lighting, and wayfinding signage. A full list of 2022 project summaries is available here.
New Eligibility for Designated Village Centers
In 2021 the Downtown Transportation Fund received a one time funding allocation of $5 million and expanded eligibility to Designated Village Centers that have participated in the Better Connections Program administered by the Vermont Agency of Transportation and the Department of Housing and Community Development and Designated Village Centers within Chittenden County that have completed a comprehensive downtown/village center/community area planning process with public input, comparable to the Better Connections Program.
Eligible Designated Village Centers
Brighton, Chester, Danville, Enosburgh, Essex Junction, Fairlee, Hinesburg, Hyde Park, Jericho Riverside, Moretown, Northfield, St Albans Town, Underhill Flats, Waitsfield, Warren, Westford, West Rutland
Application and Guidelines
Program information for 2023 Downtown Transportation Fund grants will be posted in the fall of 2022.
Learn more about how Downtown Transportation Fund investments can transform your downtown at our blog post.
For more information about the Downtown Transportation Fund please contact Gary Holloway.