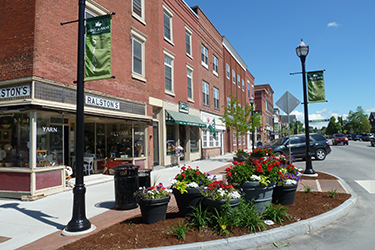 The Downtown Transportation Fund is a financing tool which assists municipalities in paying for transportation-related capital improvements within or serving a Designated Downtown and eligible Designated Village Centers.  Investment in the infrastructure of public spaces stimulates private investment and creates a sense of identity and pride in Downtowns and Village Centers across Vermont.  Since its inception in 1999, the program has invested over $13 million to support 151 projects in 32 different communities leveraging over $54 million in additional funding.
Application and Guidelines
Applications for 2023 are now closed. Our next deadline will be in early 2024. Our 2023 application is available here for reference.
2023 Downtown Transportation Fund Awardees
In 2023, over $1.1 million was awarded to 7 Designated Downtowns and Village Centers. Projects include a pocket park, a pedestrian bridge, sidewalk and pedestrian enhancements, and accessibility improvements. A full list of 2023 project summaries is available here.
Learn more about how Downtown Transportation Fund investments can transform your downtown at our blog post.
For more information about the Downtown Transportation Fund please contact Gary Holloway.