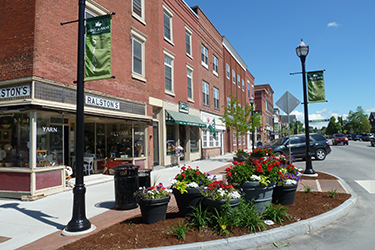 The Downtown Transportation Fund supports revitalization efforts in designated downtowns each year with over $490,000 in funding available in 2021. Investment in the infrastructure of public spaces stimulates public investment and creates a sense of identity and pride in Downtowns across Vermont. 
The Downtown Transportation Fund is a financing tool which assists municipalities in paying for transportation-related capital improvements within or serving a Designated Downtown. Past projects include streetscape improvements, bicycle and pedestrian safety improvements, parking facilities, rail or bus facilities, utility relocation, street lighting and wayfinding signage.  
Since its inception in 1999 the program has invested nearly $11 million to support 124 projects in 23 different communities leveraging over $48 million.
•    Downtown Transportation Fund Application 
•    Downtown Transportation Fund Annual Report
•    Downtown Transportation Fund Past Projects
For more information about the Downtown Transportation Fund please contact Gary Holloway.