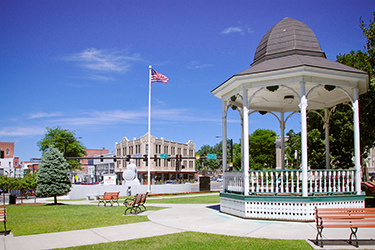 The Vermont Downtown Program is a Main Street America™ Coordinating Program that helps support community revitalization while preserving the historic character and enhance the future of medium to large-sized historic centers.  Since 1999, Downtown Designation has provided communities with financial incentives, training and technical assistance supporting local efforts to restore historic buildings, improve housing, design walkable communities and encourage economic development by incentivizing public and private investments.
As a Main Street America Coordinating Program, the Vermont Downtown Program helps to lead a powerful, grassroots network consisting of over 40 Coordinating Programs and over 2,000 neighborhoods and communities across the country committed to creating high-quality places and to building stronger communities through preservation-based economic development.  It is a proven strategy that encourages communities to take steps to enact long term change, while also implementing short term, inexpensive activities that attract people to the downtown and create a sense of enthusiasm and momentum about their community.  
Municipalities that receive designation collaborate with local non-profit downtown organizations supporting efforts through funding, staff, partnerships and volunteers. Once designated, staff provides training and resources to assist the municipality and the downtown organization to help familiarize managers, board members and local officials with the downtown program and how to best develop an action plan for downtown community revitalization.