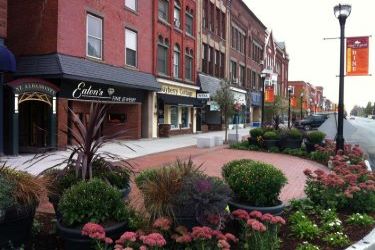 Vermont established its Certified Local Government (CLG) program in 1985 to better help local governments integrate historic preservation concerns with planning and decision making processes. Because preservation most often happens at the local level, joining the CLG program is an important and effective way to preserve Vermont's historic places.
Is my community a Certified Local Government?
Where can I learn more about the Certified Local Government program?
Certified communities are eligible to apply for a matching grant for preservation projects. VDHP awards 10% of its annual federal appropriation from the Historic Preservation Fund to CLG projects and educational opportunities each year. These grants are typically for projects in the $5,000-$10,000 range. In many cases, the products generated by CLG grants have provided credibility and visibility for Vermont's local historic preservation program.
CLG grants are awarded on an annual basis. Application materials are available in early October and due early December each year.
CLG matching grants can be used to fund a wide variety of local preservation projects, including the following:
architectural, historical, archeological surveys, and oral histories that help identify significant and ordinary properties;
preparation of nominations to the National Register of Historic Places;
research and development of historic context information;
staff work for historic preservation commissions, including designation of properties under local landmarks ordinances;
writing or amending preservation ordinances;
preparation of preservation plans;
public information and education activities;
publication of historic sites inventories;
development and publication of design guidelines;
preparation of zoning studies;
development and publication of walking/driving tours;
development of slide/tape shows, videotapes;
training for commission members and staff;
development of architectural drawings and specifications;
preparation of streetscape, facade studies, or condition assessments; and
in some years, rehabilitation or restoration of properties individually listed in the National Register of Historic Places or contributing to a National Register historic district.
Mileage Reimbursement Form (MS Word)
Donated Labor Form (MS Word)
2024 CLG Grant Manual (PDF)
2024 CLG Grant Availability Announcement
2024 CLG Grant Application (Word)
2024 CLG Budget Form (Word)
CLG Grant Progress Report Template (Word)
CLG Grant Final Project Report Template (Word)
CLG National Register Procedures 
CLG Preliminary National Register Review Form
CLG Final National Register Review Form