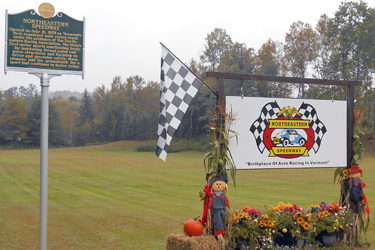 Unveiled in 1947 by the Vermont Legislature, the Roadside Historic Site Marker program has proven an effective way to commemorate Vermont's many people, events, and places of regional, statewide, or national significance. Nearly 300 cast-aluminum green markers, crested with the distinctive gold state seal, are placed throughout Vermont to provide a fascinating glimpse into the past and insights into the present.
Vermont's easily identifiable roadside historic site markers commemorate diverse topics, including the birthplaces and homes of United States presidents and legislators, Red Sox players, and founders of world-famous organizations like Cadillac, Lincoln, Rotary International, and Alcoholics Anonymous, as well as homes of famous authors and artists the likes of Rudyard Kipling, Pearl S. Buck, Robert Frost, and Norman Rockwell. Vermonter's contribution to one campaign of the Civil War is memorialized by a roadside historic marker at Cedar Creek in Virginia. The oldest markers record Revolutionary War battlefields, the meeting places of the Green Mountain Boys, and America's first ski tow, with newer markers recognizing a distinctive floating bridge, the first African American graduate of the University of Vermont, and the largest marble company in the world.
Vermont's Roadside Historic Markers in the news! The Upper Valley Image magazine featured the Historic Markers in their March issue.
Complete Listing of Roadside Markers Roadside Marker Interactive Map
For 2022, marker applications shall continue to be accepted and processed for approval by the Vermont State Historic Preservation Officer and Advisory Council on Historic Preservation. However, due to unforeseen delays at the Foundry, no markers shall be produced for the remainder of this year. For expected 2023 dedications, please contact ACCD.historicmarkers@vermont.gov to discuss production limitations.
If you wish to report a missing or damaged marker, please email Jennifer Lavoie at ACCD.historicmarkers@vermont.gov. Please let us know the name of the marker, location, and when you first noticed it was missing or damaged.
For new roadside historic marker, please review the Vermont Roadside Historic Site Marker Criteria for Evaluation and Marker Application and Directives.
To submit application forms, ask questions, or request additional information, please contact Laura Trieschmann at (802) 505-3579 or ACCD.historicmarkers@vermont.gov.