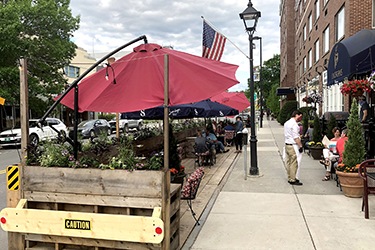 The Department of Housing and Community Development and its partners offers tools, resources, and technical assistance to help communities reimagine and reconfigure their streets, parking areas, and public spaces during COVID-19 and beyond. Better Places will help advance local recovery efforts by providing tools and resources to restore consumer confidence, rebuild local economies, protect public safety, boost local capacity, and reconnect Vermonters to one another – critical elements that help communities recover quickly. 
Special thanks to AARP Vermont, the Vermont Arts Council, Local Motion, the Vermont Community Foundation, the Preservation Trust of Vermont, and our sister state agencies for their support and work to advance Better Places in Vermont.
Guidance for Restaurant and Retail Use of Right of Way – The Department of Housing and Community Development worked with the Agency of Transportation on a toolkit to help restaurants and municipalities evaluate whether to make streets, rights of way and other public infrastructure available for outdoor dining. This document provides guidance on how a portion of a state or town public highway can be used on a temporary basis for outdoor eating, retail activities, and social gatherings to help achieve the physical distancing recommendations intended to stop the spread of the Coronavirus.
Streets for Success Recorded Online Workshop – Watch a recorded video on how communities are reconfiguring outdoor spaces in Vermont towns for safe dining, shopping, and walking. VTrans, AARP-VT, the Rutland Regional Planning Commission, and local officials in Brattleboro and Fairfax shared how communities are reimagining their public spaces to support COVID recovery efforts. Check out this list of resources and guidance documents to help local officials reimagine thier streets and public spaces.
Vermont Community Development Program – Grants can be used to help communities in deploying the necessary public safety equipment (tents, parklets, outdoor dining, hand sanitizing stations, PPE, etc.) to ensure proper physical distancing to ensure public safety while supporting local businesses in downtowns and village center.
Vermont Arts Council Animating Infrastructure Grant Program – Grants can support community projects that integrate art with infrastructure improvements that help communities improve their livability, walkability, safety, economic vitality, and community vibrancy.
Municipal Planning Grants – Municipal Planning Grants can help communities plan, adapt, and re-imagine public spaces (outside and indoors) in the time of COVID or develop COVID economic adaptation strategies, or produce a marketing plan with signage, decals, public information to encourage proper physical distancing and public safety.
VTrans Bike and Pedestrian Program – Jon Kaplan with VTrans is partnering with Local Motion to offer communities free technical assistance and guidance to communities who are exploring or implementing shared street strategies.
Better Places Program Proposal – Seeking funds to pilot Better Places program to establish a crowdgranting placemaking program to help communities adapt and implement short and longer-term changes to provide more public space and better streets for outdoor sales, dining, and gathering spaces. For more information about Better Places and placemaking check out this presentation.