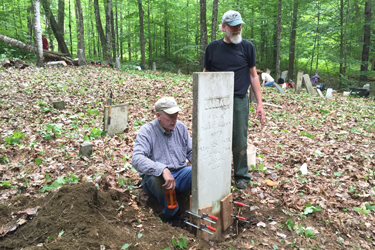 Burial sites have special protections
Native American and Euro-American burial grounds are sacred places. Unfortunately, virtually all Native American burial grounds are unmarked and undiscovered.  Many Euro-American burial grounds from the 18th and 19th century, such as military burial grounds and small family plots, are similarly unmarked and undiscovered. These places are especially fragile and vulnerable to accidental disturbance.
Vermont state law prohibits disturbance of burial sites of any kind, even on private land. This includes unmarked burials as well as those marked with memorial stones. Vermont state laws that protect burial sites can be found here: at The Vermont Statues Online:
Title 13, Chapter 81: §3761. Unauthorized removal of human remains
Title 13, Chapter 81: §3764. Cemeteries and Monuments-Grave markers and historical tablets   
Title 18, Chapter 107, § 5212b. Unmarked burial sites special fund; reporting of unmarked burial sites describes the State's Unmarked Burial Fund and the special reporting requirements if unmarked burials are discovered.
Additional information can be found here:
The 2011 Report on the Unmarked Burial Sites Treatment Plan Committee  summarizes the legislative framework, key points of discussion and consensus, issues, treatment plan outline, and recommendations of the committee.