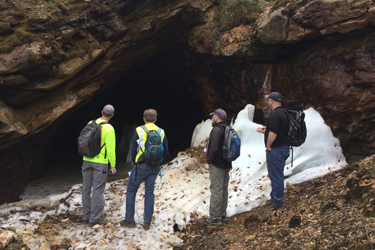 The State Archaeology program within Vermont Division for Historic Preservation encourages recognition and preservation of prehistoric, historic, and cultural sites that are an important link with our shared past. Archaeological sites contain the irreplaceable evidence to reconstruct the past. These sites are the only record of Vermont's early inhabitants, preserving stories of exploration and war, trade and exchange, settlement and subsistence, industry and commerce, tourism, transportation, and the unwritten tales of minority communities. Vermont's archaeological sites provide clues to environments, landscapes and climatic changes, and the ways in which Native people and Early European settlers successfully adapted to such changes or failed to adapt. Hundreds of prehistoric cultures have been identified in Vermont, most of them discoverable only through archaeological methods. 
In Vermont, historic archaeology begins in 1609, the year that Samuel de Champlain first explored the lake that would come to bear his name. Prehistoric archaeology incorporates everything earlier, and extends back in time for at least 13,000 years to the earliest human inhabitation of what is now Vermont.
Experience these stories and see the recovered artifacts at the Vermont Archaeology Heritage Center (VAHC) in Barre. Operated by the Vermont Division for Historic Preservation, VAHC serves as the central warehouse for the artifacts and archives of Vermont's past. This center is open to the public for exploration of 13,000 years of history through exhibits, workshops, and lectures. 
VAHC is open every Tuesday and Thursday from 9 am to 4 pm or by appointment. Please contact our State Archaeologist jess.robinson@vermont.gov to schedule a research appointment or school visit. 
Preserving Unmarked Burials - Burial sites have special protections. Vermont state law prohibits disturbance of burial sites of any kind, even on private land. This includes unmarked burials as well as those marked with memorial stones. For more information: The 2011 Report on the Unmarked Burial Sites Treatment Plan Committee 
Online Library about Vermont's past:
Publications:
Vermont Archaeology Frequently Asked Questions
4500 Years at  Gordons Landing - Archaeology at the Grand Isle Fish Hatchery
Power and Petersen 1984 Seasons of Prehistory 4,000 Years at the Winooski Site
An Archaeological Review of Vermont's Past
Archaeology at the Lucius Lathrop Site - Cambridge Vermont
Lake Champlain Voyages of Discovery: Bringing History Home
Powerful History: The Archaeology of Native Peoples in the Champlain Lowlands
Native American Archaeological Sites and the Chittenden County Circumferential Highway 
Stewardship Guide for Historic and Archaeological Resources on Forest Lands
Stonewalls & Cellarholes
From Copperas to Cleanup
Vermont's Stone Chambers: An Inquiry Into Their Past
Sloop Island Canal Boat Study
Guidelines for Conducting Archaeology in Vermont
Video:
Vilas Bridge and Petroglyphs 3D Modeling
Shays' Settlement Part 2
The Archaeology of the Burlington Intervale
An Archaeological History of Chittenden County
Champlain: The Lake Between
Riches & Remains: The Legacy of Vermont Copper Mining
Jess Robinson, State Archaeologist
802-272-2509
Scott Dillon, Survey Archaeologist
802-272-7358
Yvonne Benney Basque, Historic Resources Specialist
802-505-1020