Vermont Archaeology Month Celebrated its 22nd Year: Learn and Explore 13,000 Years of Vermont History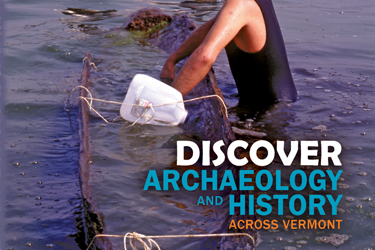 Greetings all, due to a varied series of circumstances, Vermont Archaeology Month will be somewhat scaled back this year. The program will be focused on the later two weeks of September and we will unfortunately not have a dedicated advertising campaign or coordinator. Nevertheless, we hope you will enjoy the events we have planned and will continue to add over the next few weeks. Please contact: jess.robinson@vermont.gov if you have any questions about the events listed below or about possible events to add to the calendar. Please spread the word if you think people might be interested. Events and their details will be modified below and in the events tab as more information comes in. Thanks to all of you and we are looking forward to seeing you in September!
Join us each September for Vermont Archaeology Month (VAM)! Founded in 1995 by the Vermont Archaeology Society, VAM highlights Vermont's remarkable ancient and historic past through informative lectures, interesting workshops, hands-on demonstrations and fun outdoor recreation opportunities.
2018 Events
Before Vermont… An Archaeological History of the State prior to European Contact
Jess Robinson, State Archaeologist
Thursday, September 13, 2018, 1:15 pm – 2.15 pm 
University of Vermont
Hills 122
Burlington, Vermont, 05405
*Free*
Dr. Richard Watts will open his Vermont Studies class to the public for Jess Robinson's lecture on the archaeological history of Vermont. 
Points of Interest: Lake Champlain Bridge Guided Walk    
Sunday, September 16, 2018, 1:00 pm - 3:00 pm 
Chimney Point State Historic Site 
8149 VT Route 17 W 
Addison, VT, 05491 
Cost: $6:00
Learn the history of what surrounds you as you walk across the Lake Champlain Bridge. Chimney Point site administrator Elsa Gilbertson and Crown Point, NY, site friends group president Thomas Hughes lead this guided round trip walk. Meet at Chimney Point. Rain or shine, dress for the weather. 
Geospatial Technology and New Insights into the Archaeology of Mount Independence
John Crock, University of Vermont
Thursday, September 20, 2018, 12:00 pm – 1:00 pm
University Heights South, Room 113, University of Vermont
Burlington, VT, 04505
*Sponsored by the Center for Research on Vermont and the Vermont Historical Society
*Free*
Mount Independence is one of the largest and best-preserved Revolutionary War sites in America. John Crock, Associate Professor of Anthropology and Director of the Consulting Archaeology Program at UVM, will share the results of new archaeological work at the historic site, and explain how new technology is leading to new discoveries.
Atlatl Workshop 
Friday, September 21, 12:00 pm – 5:00 pm 
Chimney Point State Historic Site 
8149 VT Route 17 W 
Addison, VT, 05491 
*Cost: $70.00; includes instruction and materials 
*Pre-registration required. Please call (802)-759-2412 
Atlatl experts Bob and Cheryll Berg of Thunderbird Atlatl teach traditional and modern techniques of atlatl and dart construction, flint knapping, hafting stone points, and cordage making. Enjoy atlatl lore and coaching on the use of your new atlatl.
22nd Annual Northeastern Open Atlatl Championship 
Saturday, September 22, 10:30 am – 4:30 pm 
Chimney Point State Historic Site 
8149 VT Route 17 W 
Addison, VT, 05491 
*Competitors: $7.00 pre-register, $8.00 same-day registration. Please call 802-759-2412 to pre-register. 
*Visitors: $5.00 for adults, free for under 15 years 
Participate in or watch this annual atlatl championship testing skills in accuracy and distance. The sport of using the atlatl to throw darts is based on the ancient hunting technique. Newcomers to experts welcome. Children's activities, exhibits, workshops and demonstrations 
in flintknapping, Woodland pottery, and other crafts and skills will be available.
Call 802-759-2412 for details.
Hubbardton Battlefield Hike    
Saturday, September 23, 1:30 pm - 4:30 pm
Hubbardton Battlefield, 
8149 VT Route 17W
Addison, VT 04591
phone :802-273-2282
*Free with site admission*
Trek around the battlefield with site interpreter and long-time reenactor Bob Franzoni. See locations of main points of the battle, learn about military tactics and key personalities of the battle, and look at a replica soldier's kit. Wear sturdy shoes, dress for the weather. Vermont Archaeology Month program. 
Splint Basswood Basket Workshop 
Sunday, September 24, 9:30 am – 5:30 pm
Chimney Point State Historic Site
8149 VT Route 17W
Addison, VT, 05491
*Cost: $60.00; limited to 15 students
*Pre-registration required. Please call 802-759-2412
Barry Keegan offers this basket workshop, teaching you to weave with splints of basswood with Learn to make a basket out of 32" long basswood outer bark strips from basket maker Barry Keegan. New basket type for this year's workshop. You choose the pattern: bark side in or bark side out. This style requires only spokes and no weavers. The finishing rim will be tacked on with pliable inner bark or pine tree rootlets. You will be handling wet materials: dress appropriately. Limit 15 students. Fee includes instruction and materials.
Historic Bingo Cemetery Restoration and Clean-Up 
Wednesday, September 26, 10:00 am -2:30 pm – or until you want to leave.
Bingo Road, Rochester, VT (Cemetery comes right up on Google Maps…)
*Free*
Retired National Forest archaeologist Dave Lacy will lead a work group to clean & repair the historic stones in Bingo Cemetery. Bingo is an active town cemetery, but most of the stones are from the 19th c and could use attention. The National Forest takes an interest in this cemetery because it owns much of the surrounding land, and many of the people buried here once lived or made their living on those lands. We may also take a short tour of historic archaeological sites in the area.
Waterford Historical Society Kids' Presentation 
Wednesday, September 26, 6:30 pm
Davies Memorial Library
Lower Waterford, Vermont, 05819
*Free*
A week-long coached "dig" by kids in the barnyard of a historic barn yielded evidence of the farm's past uses, and lit interest in archaeology for grades 4-8 students in Waterford. See their discoveries and hear about this community collaboration. waterford-vt-history.blogspot.com
UVM Fleming Museum Panel on the Concept of "Home" 
Wednesday, September 26, afternoon (more information to follow)
Fleming Museum of Art
61 Colchester Avenue
Burlington, Vermont 05405
As part of the Fleming's autumn House to Home exhibit, which will examine the concept and meaning of home through cultural, ethnographic, and decorative art objects from Africa, Asia, Europe, the Americas, and Oceania, Jess Robinson, professor Jonah Steinberg, and others will discuss how home is reflected in the anthropological and material cultural aspects of the peoples and cultures with which they engage.  
Galick Site Open House 
Saturday, September 29th, 10:00am – 1:00pm 
Buckner Preserve 
1500 Galick Road 
West Haven, VT 05743 
*Free*
Join Castleton University archaeologist Matt Moriarty and other project team members at an informal presentation of artifacts and results from three seasons of archaeological research at the Galick site in West Haven.
Winooski Historical and Archaeological Walking Tour 
Brennan Gauthier, VTrans Archaeologist
Sunday, September 30, 10:30 am – 12:00 pm (more information to follow)
Winooski Mill Museum
Champlain Mill
20 Winooski Falls Way, Suite 302
Winooski, Vermont, 05404
*Free*
After meeting at the Winooski Museum, participants will take a walking tour of important historical and archaeological locations near the Champlain Mill in Winooski. This year, Brennan Gauthier will focus on the bridge over the Winooski River and its importance in the history of the region.
6th Annual James B. Petersen Lecture 
October 3rd, 6:00 pm
University of Vermont
Burlington, Vermont, 05405 (more information to follow)
*UVM Barack Lecture Series*
*Free*
Dr. Jago Cooper, Curator of the Americas at the British Museum, will give a presentation on his research in areas of South American and the Caribbean.