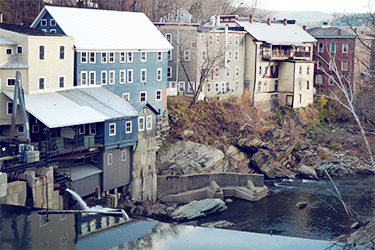 Vermont's hard-won experience from flooding taught a key lesson – no individual, business, organization, town or state agency can reduce flood vulnerabilities alone. Projects like the Vermont Economic Resiliency Initiative (VERI) and other studies and related initiatives deepened partnerships and identified new opportunities advance an integrated, long-term strategy to:
•    protect people and property
•    strengthen Vermont's business, community and  state preparedness
•    coordinate fast and efficient responses after a disaster
•    reduce the high costs of repetitive repairs to infrastructure
•    ensure businesses stay open and Vermont's economy remains strong after an event
The VERI Project Report aims to help other cities, towns, and states take steps to reduce and better manage their flood risks.  Main components of the VERI report include the following items.
Vermont's top 32 communities where economic activity and associated infrastructure are at high risk of flooding identified. 
Reports for the six communities selected for local risk reduction and the actions currently underway for implementing their VERI plans:
Barre City and Town  -  buying out at-risk housing along the Gunner's Brook
Brandon - designing an overflow culvert to protect the downtown municipal offices and business from floods and ensure State Route 7 is open for business
Brattleboro -  protecting a key parcel and increase its capacity to store flood water and debris that protects downtown business
Enosburg Village and Town -  implementing projects with Hazard Mitigation grants
Woodstock - upgrading undersized culverts and bridges
Tools for Weathering the Storm - a series of concise information sheets, checklists and more advanced tools to help communities and business weather the next storm. 
VERI is modeled after a successful project in Bennington that prevented flood damage during Tropical Storm Irene. The project was led by the Agency of Commerce and Community Development, working with the Agencies of Natural Resources and Transportation, Regional Planning Commissions, and consulting river scientists. The report was prepared by the Vermont Agency of Commerce and Community Development in partnership with the Two Rivers-Ottauquechee Regional Commission using Federal funds under award 01-79-14251 from the Economic Development Administration, U.S. Department of Commerce. The statements, findings, conclusions, and recommendations are those of the author(s) and do not necessarily reflect the views of the Economic Development Administration or the U.S. Department of Commerce.