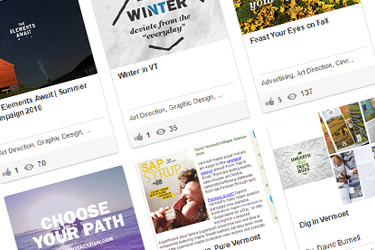 The Department of Tourism and Marketing's key objective is to increase awareness of Vermont as a tourism, recreation and conference destination. To accomplish this, we market Vermont to likely travelers from across the country, from around the world and from within Vermont itself, as well as encouraging the purchase of Vermont products and services. We continue to promote Vermont in the key drive/fly markets of New York City, Boston, Philadelphia, Montreal and Toronto as well as important secondary markets Charlotte North Carolina and Atlanta Georgia.
Our media strategy includes a combination of digital, social, television, magazine, newspaper, radio, out of home (outdoor advertising) and programmatic advertising. Advertisements are placed in publications, locations, and broadcast networks that attract potential visitors interested in outdoor recreation, cultural heritage, unique lodging, fine dining and the Vermont experience. The call to action on all advertising campaigns and printed materials directs consumers to VermontVacation.com and 1-800-VERMONT.
For the 2018/19 season, we will focus on the concept of time in our paid advertising campaigns and promotional efforts. This concept will attract interest in Vermont as a four-season tourism destination for those looking to escape the stresses from a big city, a demanding job, or a busy home schedule. A secondary, underlying message is that Vermont is an eternal respite from the noise of the world. Given the current polarizing environment, it suggests everyone to hit the pause button and consider time from a different perspective.
It's Time for Vermont is not only a literal invitation to get away from the noise of the world and relax in The Green Mountain State, but conceptually serves as a reminder of the continuity of time, and that Vermont is a peaceful, safe, kind, and welcoming place.