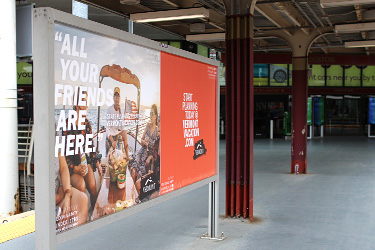 The Department of Tourism and Marketing's key objective is to increase awareness of Vermont as a tourism, recreation and conference destination. To accomplish this, we market Vermont to likely travelers from across the country, from around the world and from within Vermont itself, as well as encouraging the purchase of Vermont products and services. We continue to promote Vermont in the key drive/fly markets of New York City, Boston, Philadelphia, Montreal and Toronto as well as important secondary markets Charlotte, North Carolina and Atlanta, Georgia.
Our media strategy includes a combination of digital, social, television, magazine, newspaper, radio, out-of-home (outdoor advertising) and programmatic advertising. Advertisements are placed in publications, locations, and broadcast networks that attract potential visitors interested in outdoor recreation, cultural heritage, unique lodging, fine dining and the Vermont experience. The call to action on all advertising campaigns and printed materials directs consumers to VermontVacation.com and 1-800-VERMONT.
Campaign concepts vary and evolve over time. The common themes stem from values we understand to be shared by Vermonters and visitors alike. These involve suggested ways of living, consideration of a slower pace, connection to the natural elements, community, family, and living a fulfilling life as defined by oneself. Together, these offer a view into the Vermont brand. Paid advertising campaigns and promotional efforts speak to these themes as they relate to tourism, and Vermont as a whole. The idea is to further interest in Vermont as a four-season tourism destination for those who seek replenishment. A secondary, underlying message is that Vermont is an eternal respite from the noise of the world. It suggests everyone to consider a pause, time to reflect, and understand with an alternative perspective.