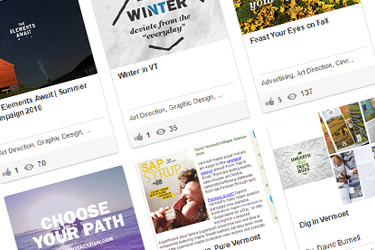 The Department of Tourism and Marketing's key objective is to increase awareness of Vermont as a tourism, recreation and conference destination. To accomplish this, we market Vermont to likely travelers from across the country, from around the world and from within Vermont itself, as well as encouraging the purchase of Vermont products and services. We continue to promote Vermont in the key drive/fly markets of New York City, Boston, Philadelphia, Montreal and Toronto as well as important secondary markets Charlotte North Carolina and Atlanta Georgia.
Our media strategy includes a combination of digital, social, television, magazine, newspaper, radio, out of home (outdoor advertising) and programmatic advertising. Advertisements are placed in publications, locations, and broadcast networks that attract potential visitors interested in outdoor recreation, cultural heritage, unique lodging, fine dining and the Vermont experience. The call to action on all advertising campaigns and printed materials directs consumers to VermontVacation.com and 1-800-VERMONT.
For the 2017/18 season, we will feature all 251 Vermont towns in our paid advertising campaigns and promotional efforts. This is an ambitious goal, but one that we believe will attract interest in Vermont as a tourism destination by highlighting the unique communities and assets that make the Vermont brand so strong. The content will also be used to populate the Towns & Regions section of VermontVacation.com.
We are looking for assistance from communities and partners within the tourism and hospitality industry (businesses, chambers, local photographers, local experts), to provide us with high-resolution photography, video and content that showcases our Vermont towns. We are interested in photographs from all seasons and content that includes unique locations within your community, events, attractions and experiences of all varieties. We appreciate any content and information that you can provide to make this campaign a success while directly reflecting your communities' attributes. Please use this form to submit all content and images to get involved.
The Two Fifty-One campaign has been up and running since early summer and we've received some nice content so far. Take a look at this page featuring Manchester for some inspiration as it's just one of two fifty-one examples of what the content provided through the form will look like. Please take a few minutes to compile your best assets and share with others in your community.