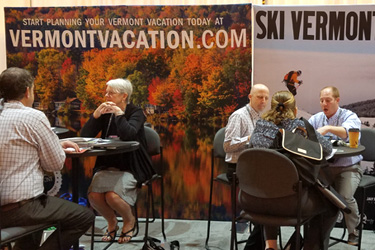 The domestic travel market remains vital to Vermont tourism, consistently bringing in strong numbers of visitors throughout the year. This market primarily consists of tourists that drive to Vermont from areas across the Northeast, but it also includes more distant domestic travelers from key U.S. areas that may drive or fly-in.
Additionally, the Vermont Department of Tourism and Marketing appreciates the importance of cultivating the international tourism market. VDTM participates in trade shows and sales missions in Canada, the United Kingdom, Germany and Italy. A team of international specialists located in North American and overseas assist VDTM with marketing, public relations and sales missions that are targeted at the international audience. These specialists also assist the department and Vermont businesses with setting up familiarization trips to host international journalists in Vermont.
If you are interested in participating in trade shows, familiarization tours or sales missions, please contact Sales & Marketing Specialist Sara DeFilippi or call 802-272-2633.