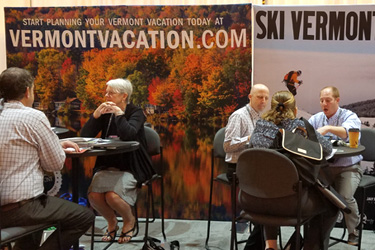 The Vermont Department of Tourism and Marketing appreciates the importance of cultivating the international tourism market. There are a variety of ways that VDTM targets international audiences, including having representation on the ground in key markets, hosting international media in Vermont, and meeting with domestic receptive tour operators.
According to the U.S. Travel Association, international travelers spend approximately $4,200 per person when they the visit the U.S. and they stay an average of 18 nights. They are less likely to be visiting friends or relatives, which means they're staying in paid accommodations. Because they are booking so far in advance, they are less likely to cancel their plans. Lastly, because they are staying for a much longer period of time than domestic travelers, international visitors are able to fill in mid-week periods.
Meet Our International Representatives
Shoko Hirao: Shoko is a native of Japan and has over 30 years of marketing and PR experience in the Japanese travel, trade and press industry. She was a marketing manager for Asia with Massachusetts Port Authority's International Marketing and Route Development Department, managing activities and consultants in Japan, S. Korea, Taiwan and Hong Kong. She left Massachusetts Port Authority in 1998 to establish her marketing consulting company Global Consulting. Shoko focuses on marketing to Japan as well as South Korea and other Asian countries. Shoko is based in Stowe and also has a staffed office in Tokyo.
Caroline Donaldson-Sinclair: Caroline has represented the State of Vermont in the international tourism market under various guises for more than 15 years. Now as an independent consultant based in the U.K. she undertakes both travel trade representation, direct to consumer outreach, and media relations on behalf of the State. With more than 20 years in tourism she has represented international airlines, individual and group hotels, attractions, tour operators, and tourism bureaus from across the world. Caroline focuses on the U.K. and Ireland, as well as Australia and New Zealand.
Our international representatives assist with outreach to tour operators and travel agents through sales missions (both domestic and international) and trade shows. Additionally, our international reps facilitate media outreach and organize press visits for international journalists. A sample of Vermont's international press can be viewed on our international media page.
Tour Operator Summits
VDTM attends 3 different tour operator summits within the U.S. to meet with tour operators who work with international travelers, including both groups and FIT (foreign independent traveler).
Brand USA
Brand USA is the destination marketing organization for the United States. Their mission is to increase international visitation to the U.S. Vermont has its own state page on VisittheUSA.com which is the consumer facing website for Brand USA. They have marketing initiatives in over 40 markets which drives traffic to their site.
Brand USA has highlighted Vermont in their United Stories series, featuring Sugarbush and the Bundy Modern in the Mad River Valley.
U.S. Travel Association
The U.S. Travel Association advocates on behalf of the collective travel industry within the United States. As part of Vermont's membership, we have access to a robust research library. We've uploaded a sampling of the data they offer here for your review.
The Canadian Market
The Canadian market is an important drive market to Vermont, specifically Québec and Ontario. According to the National Travel & Tourism Office, the average nights per visit for a Canadian traveler is 2.6 and the vast majority of them are coming for vacation. In 2015, Vermont welcomed 2 million Canadians which represented more than $200 million in Vermont spending.
In addition, the State attends two consumer travel shows in Canada (Ottawa and Montreal), and reaches Canadians through our annual summer digital marketing campaign.
To encourage continued visitation to Vermont, we created a Canadian deals page on VermontVacation.com. If your business offers a discount to Canadians, please email Sara DeFilippi to get added to the site.
Additional Resources
For up to date information about VDTM's international marketing efforts, please sign up for our quarterly international marketing newsletter.