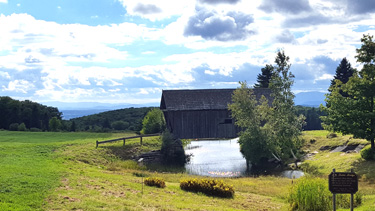 The Vermont Advisory Council on Historic Preservation (ACHP) is a seven-member state review board, appointed by the Governor. The ACHP, created by the Vermont Historic Preservation Act, augments the efforts of the Vermont Division for Historic Preservation (VDHP) and serves as the State Review Board as required by the National Historic Preservation Act. Four members of the ACHP shall be recognized professionals in the disciplines of architecture, history, architectural history, and archeology. Three members shall represent the public. Council members are appointed to three-year renewable terms. The State Historic Preservation Officer serves as the staff person to the ACHP. 
By Statute, the members are charged with approving nominations to the State Register of Historic Places, reviewing nominations for the National Register of Historic Places, assessing of the survey documentation for historic properties, approving the Predictive Model for archaeologically sensitive areas; annually evaluating the activities of VDHP outlined in State Historic Preservation Plan, recommending projects seeking state and federal grant funding, and providing consultation on state and federal undertakings that may affect historic properties. Some of these activities have been delegated to the staff of VDHP.
The ACHP must meet at least three times a year. Public attendance and participation are welcome. 
The Council typically meets every third full week of the month, unless otherwise specified, in Montpelier and other locations around the state. 
Future Meeting Dates:
Thursday, July 21, 2022,   GoTo Virtual Meeting. Attend by either clicking here, or by phone 1-571-317-3112, access code 615-321-581
Thursday, September 22, 2022,  GoTo Virtual Meeting. Attend by either clicking here, or by phone 1-571-317-3112, access code 615-321-581