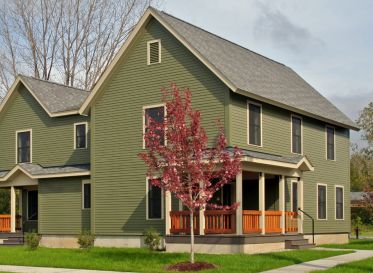 Act 157 directed the Agency to develop recommendations to fill the gap in our housing and infrastructure needs. Over the summer and fall, the Steering Committee and staff reviewed existing programs and statutes, gathered stakeholder input and evaluated the housing and infrastructure needs throughout Vermont.
The committee found that public incentives are critical to improve the quality and quantity of housing and finance repairs to its sidewalks, roads, sewer and water systems to support new development. Tools like tax credits and tax increment financing have been particularly effective in St. Albans, Winooski, Barre and other communities. 
The committee also learned regulatory incentives can be effective. One example of this is the Priority Housing Project exemption from Act 250 permitting. The exemption has facilitated the development of more than 200 housing units in the state by saving an estimated average of 6 months from state permitting timelines and more than $250,000 in permit fees.  
Given the complexity of these issues and the short time to study them, many of these report recommendations will need further review and stakeholder involvement to assure the best options are pursued. However, without action, reform, incentives or additional funding, it is clear Vermont will not be able to grow the economy and meet the current and future needs of families, businesses and communities.