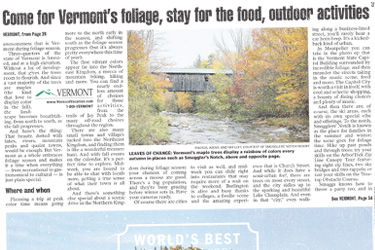 The Vermont Department of Tourism and Marketing (VDTM) is staffed to assist journalists and travel writers in attaining the information and content they need to complete tourism-related pieces that they are working on. We realize that not everybody can always travel to Vermont, so we have resources on hand to offer the media and writers editorial support.
If you are a journalist or travel writer in need of specific Vermont Tourism information, photos, videos, or other multimedia content; please contact Nate Formalarie.
With a deep institutional knowledge of Vermont and many tourism partnerships throughout the state, VDTM is always willing to field press inquiries.