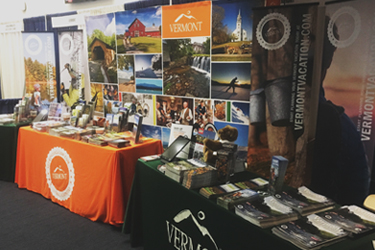 Regionally and around the world, the Vermont Department of Tourism and Marketing (VDTM) promotes our state through special events, consumer shows, and travel trade shows. View the current list of 2021 events below.
BRAND USA GLOBAL MARKETPLACE
Ongoing | Virtual
Brand USA's Global Marketplace has allowed us to maintain relationships with overseas tour operators throughout the COVID-19 pandemic through virtual events and one on one video meetings with over 40 tour operators. Our virtual booth will be active for the next year as they continue to add events and meeting opportunities to the marketplace.
AMERICAN BUS ASSOCIATION ANNUAL MEETING AND MARKETPLACE
Ongoing | Virtual
ABA has gone virtual this year with monthly one on one video meetings allowing us to meet with North American tour operators, suppliers & exhibitors who offer motorcoach travel opportunities.
U.S. TRAVEL ASSOCIATION'S IPW
SEP. 18-22, 2021 | Las Vegas, NV
The travel industry's premier international marketplace. More than 6,000 delegates representing U.S. travel organizations meet with international buyers, domestic buyers, and media from 70+ countries.
EASTERN STATES EXPO "THE BIG E"
SEP. 17 - OCT. 3, 2021 | W. Springfield, MA
"New England's Great State Fair". The largest fair on the eastern seaboard with an attendance of 1.5 million.
How you can partner with us: Volunteer to take a shift at the tourism booth located in the historic Vermont Building in exchange for brochure distribution for all 17 days of the fair. Volunteers can also provide us with a short video to be played at the booth as well as providing a raffle item for additional exposure.
VERMONT TOURISM SUMMIT
DEC. 8–9, 2021 | Killington, VT
Join VT tourism industry colleagues at the 37th annual Vermont Tourism Summit (VTS), formerly known as the Vermont Travel Industry Conference. Includes networking events, engaging panel discussions and workshops.
We'll be adding more events as we confirm them. For more information on shows and partnership opportunities, please contact Sales & Marketing Specialist Sara DeFilippi or call 802-272-2633.