Vermont Violins Awarded Workforce Development Grant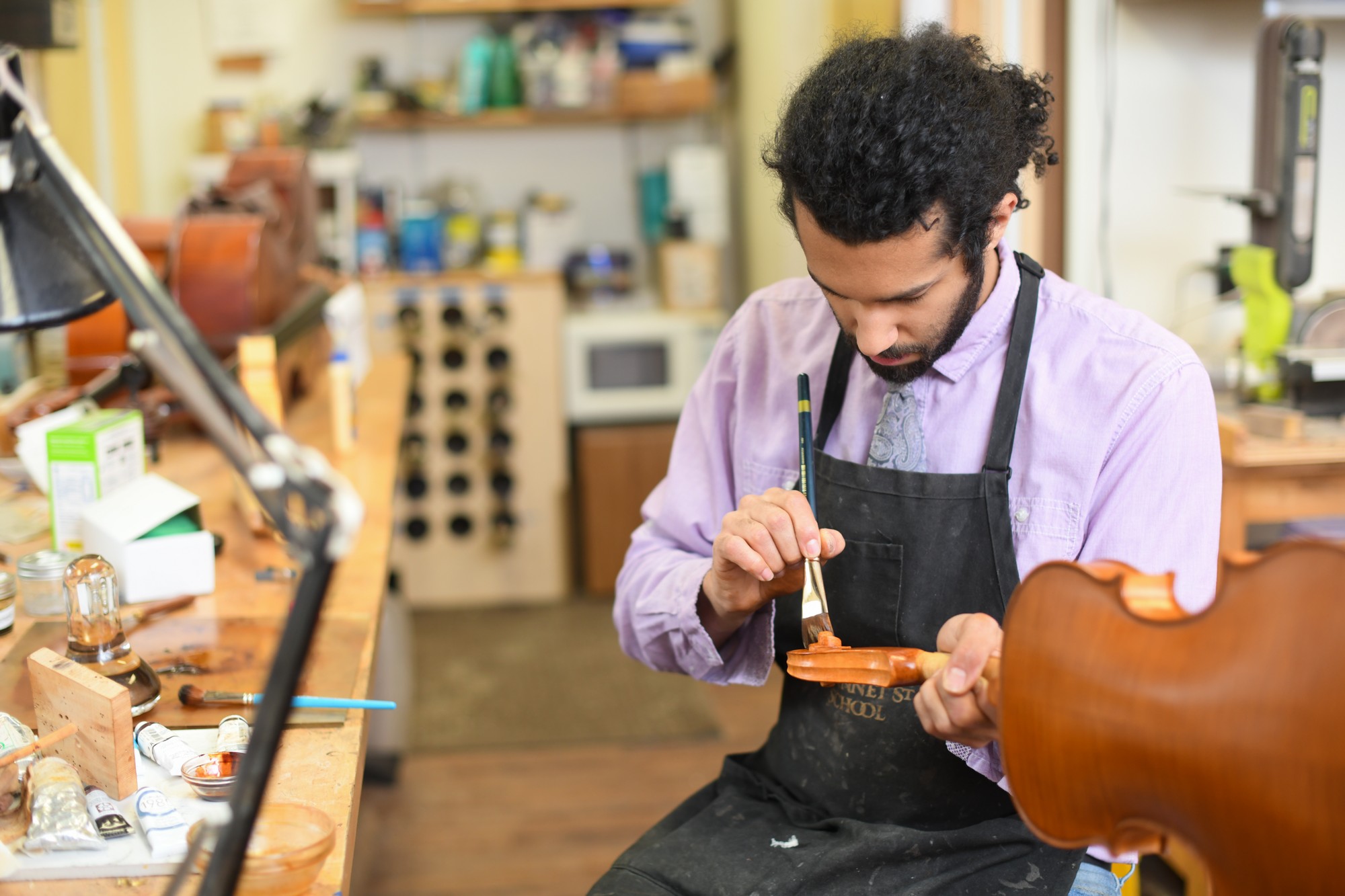 Vermont Violins Awarded Workforce Development Grant
MONTPELIER, VT – Vermont Violins has recently been approved for a workforce training grant totaling $11,349 from the Vermont Training Program (VTP).
Vermont Violins is expanding in-house production capabilities to include high-quality faceplates and scrolls that are currently purchased offshore. To meet new production needs, five incumbent and one new hire will be trained on upgraded equipment to allow for this transition. The grant funds will help pay for training in the CAD/CAM design software, instrument set-up and tone adjustment needed for new equipment, as well as support social media marketing plan efforts.
"As we pursue a new line of work, manufacturing high-quality violins and violas under the label, V. Richelieu, we face the challenge of learning high-level CAD and CAM programming along with an entirely new focus on national brand marketing," said Vermont Violins co-owner Oren Kronick. "This grant will make it possible for us to take on these new challenges and make Vermont a source for American made instruments offered at affordable prices. It is wonderful to work in a state that supports small businesses in this way and where 'Made in Vermont' is more than just marketing, but a way of life."
"We are excited to see Vermont Violins expand its production process and marketing efforts," said Department of Economic Development Commissioner Joan Goldstein. "This grant will help its unique product reach a growing customer base not only in Vermont but nationally as well."
###
About Vermont Violins
Vermont Violins' mission is to foster music in the community and its customers. The company is dedicated to promoting the study of myriad stringed instruments, including violins, violas, celli, and bass. Aside from its products and services, the company donates a significant amount of its profits towards the presentation of music in the community. Primarily focusing its donations on schools and performance series, recent donations have gone to the Vermont Youth Orchestra, and the Green Mountain Youth Symphony.  Oren Kronick and wife Kathy Reilly established Vermont Violins in Montpelier, VT in 1994.  Today, they also have locations in Burlington, VT and West Lebanon, NH.
About the Vermont Training Program (VTP)
The Vermont Training Program is administered by the Vermont Agency of Commerce and Community Development, Department of Economic Development. It is a workforce development program to enhance the skills of the Vermont workforce and increase productivity of Vermont employers; grants may cover up to 50 percent of the training cost which can either be on-site or through a training provider/vendor.  For more information on VTP, visit http://accd.vermont.gov/economic-development/funding-incentives/vtp.
About the Vermont Agency of Commerce and Community Development
The Vermont Agency of Commerce and Community Development's (ACCD) mission is to help Vermonters improve their quality of life and build strong communities. ACCD accomplishes this mission by providing grants, technical assistance, and advocacy through three divisions: The Department of Economic Development, the Department of Tourism and Marketing, and the Department of Housing and Community Development. For more information on ACCD please visit: https://accd.vermont.gov/.