March 16, 2023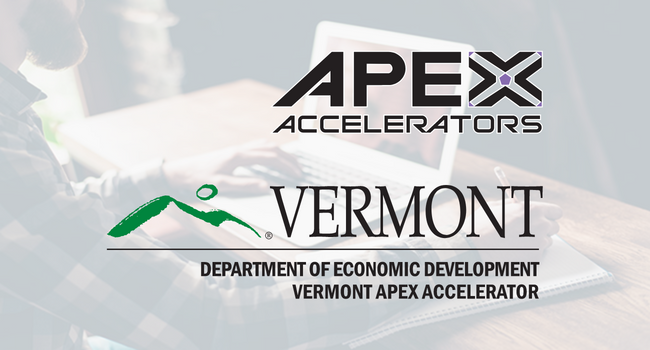 VERMONT PROCUREMENT TECHNICAL ASSISTANCE CENTER NOW VERMONT APEX ACCELERATOR

 
PTACs Around the Country Announce Name Change to APEX Accelerators
Montpelier, Vt. – Last fall, Procurement Technical Assistance Centers (PTACs) across the nation became a program managed under the Department of Defense, Office of Small Business Programs. With the structural change, came an opportunity to rebrand and PTACs are now nationally recognized as APEX Accelerators. In Vermont, the center will be known as Vermont APEX Accelerator. This transition will bring increased national visibility, increased resources, and new opportunities to assist clients.
For decades, PTACs have helped expand the number of small businesses that successfully compete for and win federal, state, and local government contracts and have done so under cooperative agreements with the Defense Logistics Agency, state and local governments, and non-profit organizations. The transition includes a new name, additional reporting metrics, and new opportunities, but it does not change the center's dedication to helping Vermont's business community. Vermont APEX Accelerator is eager to incorporate these exciting changes into its work with Vermont business clients including:
Growing the Defense Industrial Base (DIB) and the Government Industrial Base (GIB) - Vermont APEX Accelerator will focus on components that will elevate Vermont companies to achieving success as DIB/GIB ready competitors; 

Equity, Diversity, and Inclusion; 

Foreign Ownership, Control, or Influence - A focus that has been specifically added to the APEX Accelerator mission by Congress; 

Cybersecurity; and 

Facilitating innovation.
Locally, Vermont APEX Accelerator serves close to 500 clients, and has assisted them with winning over $195 million in government awards in 2022.
"The more successful our businesses are in the government marketplace, the stronger our supply chains become," said Vermont APEX Accelerator Director Joanne Spaulding. "These changes will help our procurement counselors to better serve business clients, so they win more contracts and strengthen the local economy."
Implementation of the new name has begun across digital channels and is anticipated to be completed across digital and print media in the coming months. Vermont APEX Accelerator will be undergoing many changes to reflect the new brand and enhanced services. Learn more about APEX Accelerators, including a video from the 2022 National Fall Conference, on the national APEX Accelerators webpage. Learn more about Vermont APEX Accelerator and find your local procurement counselor on the Vermont APEX Accelerator webpage.
###
About the Vermont APEX Accelerator (formerly Procurement Technical Assistance Center (VT PTAC)): Vermont APEX Accelerator provides Vermont businesses with an understanding of the requirements of government contracting to obtain and successfully perform federal, state, and local contracts through free counseling services, training, and networking opportunities. The Accelerator's mission is to increase the percentage of federal contracts awarded to Vermont businesses with emphasis on contracts awarded to small businesses. This APEX Accelerator is funded in part through a cooperative agreement with the Department of Defense. It is also funded by the Vermont Department of Economic Development (DED), and it operates as a program within the DED. For more information on Vermont APEX Accelerator please visit: apex.vermont.gov.
About the Department of Economic Development 
The Department of Economic Developments works to improve the economic well-being and quality of life of Vermonters, while preserving our natural resources and community values. Business support staff make connections to programs focused on employee training and workforce development, market expansion, facilities location, and environmental remediation to help businesses start or expand in Vermont and strengthen our rural economies. Learn more: https://accd.vermont.gov/economic-development
About the APEX Accelerator/PTAC Program: The Procurement Technical Assistance Program (PTAP) was authorized by Congress in 1985 in an effort to expand the number of businesses capable of participating in the government marketplace. Administered by the Department of Defense's Office of Small Business Programs (OSBP), the program provides matching funds through cooperative agreements with state and local governments and non-profit organizations to operate for the purpose of providing procurement assistance to all businesses interested in participating in the government marketplace. Learn more at aptac-us.org or at apexaccelerators.us.
Vermont APEX Accelerator Headquarters 
1 National Life Drive, 6th Floor, Montpelier, VT 05602 
(802) 828-5237 
http://apex.vermont.gov