SBIR/STTR Teleconference | A Unique Opportunity for Vermont Businesses Engaged in R&D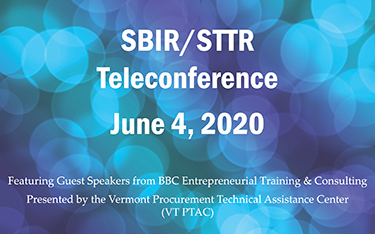 FOR IMMEDIATE RELEASE
Friday, May 29, 2020
Contact: Joanne Spaulding, Director 
VT Procurement Technical Assistance Center
802-522-9135
Joanne.Spaulding@vermont.gov
 SBIR/STTR Teleconference | A Unique Opportunity for Vermont Businesses Engaged in R&D
The Vermont Procurement Technical Assistance Center (VT PTAC) is pleased to present this SBIR/STTR Virtual Classroom event on Thursday, June 4, 2020 for Vermont businesses involved in Research and Development (R&D). Technology companies eligible for non-dilutive federal funding through the Small Business Innovation Research (SBIR) and Small Business Technology Transfer (STTR) programs should attend this event. The two programs award $3.2 billion annually from 11 federal agencies. For one of them, the National Science Foundation, Vermont submitted only 62 applications from 2009 to 2018. There is plenty of room for growth. Lamoille County manufacturer NextGen Balancing Technologies recently received an USAF SBIR Phase 1 award. George Allen, Partner at NextGen said, "The support my company received from PTAC was a major factor in our receiving an SBIR grant. I highly recommend them to all, especially those going through the process for the first time."
This Virtual Classroom will provide enough detail to understand the SBIR/STTR programs and a fit for Vermont technologies. Nationally known speakers from BBC Entrepreneurial Training & Consulting (BBCetc) will present several topics. BBCetc is nationally recognized for its success in helping emerging companies win SBIR/STTR funding and use it strategically to propel growth.
Overview of the NIH SBIR/STTR Programs

SBIR/STTR Proposal Prep Essentials for Granting Agencies

Overview of how to Navigate Contracting Agencies

Preparing a Credible SBIR/STTR Budget
SBIR/STTR Teleconference
Thursday, June 4, 2020
8:30am – 3:30pm (scheduled breaks)
For more information and to register for this event, please visit https://vtptac.ecenterdirect.com/events/723 or call (802) 828-5237. Space is limited.
###
About the Vermont Procurement Technical Assistance Center (VT PTAC): VT PTAC provides Vermont businesses with an understanding of the requirements of government contracting to obtain and successfully perform federal, state, and local contracts through free counseling services, training, and networking opportunities. The center's mission is to increase the percentage of federal contracts awarded to Vermont businesses with emphasis on contracts awarded to small businesses. This procurement technical assistance center is funded in part through a cooperative agreement with the Defense Logistics Agency. It is also funded by the Vermont Department of Economic Development (DED), and it operates as a program within the DED.
About the Vermont Agency of Commerce and Community Development (ACCD): ACCD's mission is to help Vermonters improve their quality of life and build strong communities. ACCD accomplishes this mission by providing grants, technical assistance, and advocacy through three divisions: The Department of Economic Development, the Department of Tourism and Marketing, and the Department of Housing and Community Development. For more information on ACCD please visit: https://accd.vermont.gov.
VT PTAC Program Headquarters
1 National Life Drive, 6th Floor, Montpelier, VT 05602
(802) 828-5237