November Events Calendar 2016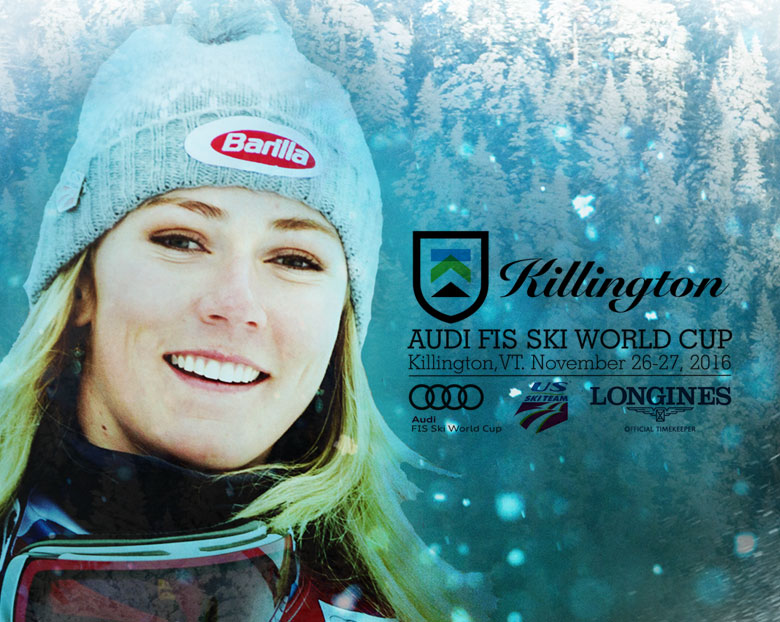 MONTPELIER, Vt. – While November marks the return of skiing and snowboarding to the mountains of Vermont, this season's opening of the slopes will be highlighted by an event that welcomes many of the best skiers in the world to the Green Mountain State.
Skiing's top women competitors will make their way to Killington over Thanksgiving weekend as the resort hosts the Audi FIS Ski World Cup. This will be the first alpine World Cup event in the eastern United States in 25 years.
The Audi FIS Ski World Cup will include the women's giant slalom and slalom races and is expected to bring U.S. Ski Team superstars Mikaela Shiffrin, Lindsey Vonn and Julia Mancuso, who will be competing against the best technical alpine skiers in the sport. The World Cup races will be held on Saturday, Nov. 26 and Sunday, Nov. 27.
"We are thrilled that the start of the upcoming ski season in Vermont will welcome many of the brightest stars in the sport to our state," said Vermont Department of Tourism and Marketing Commissioner Megan Smith. "The Audi FIS Ski World Cup will not only bring a great deal of attention to the world class skiing and accommodations at Killington Resort, but also introduce thousands of our visitors to many of the other wonderful destinations that Vermont has to offer."
Below are some of Vermont's top events for November, 2016:
Choir Boy
White River Junction, November 3 - 20
Choir Boy is a powerful coming-of-age story with stirring a cappella gospel music threaded throughout. It is a story of masculinity, tradition, coming of age, and speaking your truth, set in the gospel choir of an elite prep school for young black men.
Chris Isaak: First Comes the Night
Rutland, November 7
Chris Isaak is a non-stop touring Grammy nominated singer-songwriter, actor and talk show host. With his stellar bandmates Silvertone, Isaak's haunting voice, fierce guitar and glittered outfits have entertained fans for decades. First Comes the Night is Isaak's first recording of original songs in six years.
The Who's Tommy
Burlington, November 10 - 13
"The Who's Tommy" is a live performance based on the legendary rock album by The Who. This Tony Award winning musical explores the tragedy and triumph of Tommy the Pinball Wizard.
Molsky's Mountain Drifters
Randolph, November 12
Molsky's Mountain Drifters is a trio featuring Bruce Molsky. According to Mother Jones, Molsky is "one of America's premier fiddling talents." Molsky is a Grammy-nominated artist on fiddle, banjo, guitar and song.
A Christmas Carol
White River Junction, November 16 - December 24
Charles Dickens' story of redemption remains as powerful and uplifting as ever. A Christmas Carol will bring friends and families together with magical scenery, beautiful music, memorable characters, and a few whirling ghosts.
38th Annual Putney Craft Tour
Putney, November 25 - 27
The Putney Craft Tour is the oldest continuing craft studio tour in North America. You can visit 22 working studios in the craft rich area of southern Vermont. Meet the makers of unique works of art in clay, glass, wood, metal and fiber, as well as delicious cheeses and wines. Many of the artisans will be demonstrating their creative process.
Billings Farm Thanksgiving Weekend
Woodstock, November 25 - 27
The tradition of celebratory feasts for a bountiful harvest spans cultures, continents, and millennia. Discover how Thanksgiving was observed in the 1890 Farm House at the Billings Farm – preparations, menu, and entertainment – and the critical and demanding work of harvesting crops each fall.
Audi FIS Ski World Cup
Killington Resort, November 26 - 27
This World Cup event will include the women's giant slalom and slalom races and is expected to bring U.S. Ski Team superstars Julia Mancuso, Mikaela Shiffrin and Lindsey Vonn to compete against the best women's technical alpine skiers in the world.
For more events happening statewide, please visit the events calendar.