Free Admission to Vermont Historic Sites on August 16, Bennington Battle Day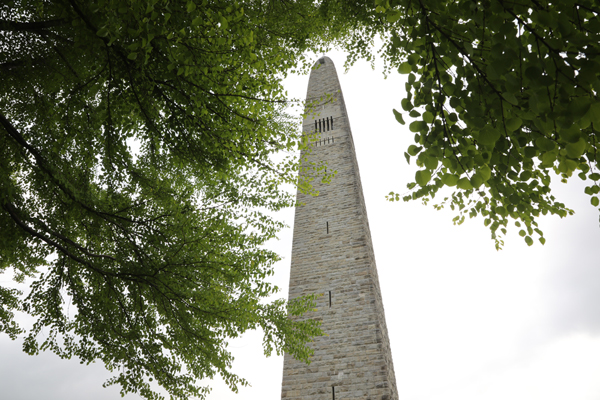 Free Admission to Vermont Historic Sites on August 16, Bennington Battle Day
MONTPELIER, VT – August 16th is a unique Vermont State Holiday commemorating Bennington Battle Day and the victory over the British on August 16, 1777. To celebrate this Revolutionary War victory, admission to State-owned Historic Sites will be free on Friday, August 16, 2019.
Pack a picnic basket and head out to enjoy the Vermont summer at three State Historic Sites key to the story of Vermont's role in the American Revolution.  In 1776 and 1777, American troops constructed Mount Independence in Orwell, now among the largest and best-preserved Revolutionary War archaeological sites in America. The Hubbardton Battlefield in Hubbardton marks the site of the only Revolutionary War battle fought on what would become Vermont soil, occurring on July 7, 1777. The 306-foot high Bennington Battle Monument, the highest structure in Vermont, marks the site of the arsenal that British and German troops were attempting to capture August 16, 1777 when they were defeated at the Battle of Bennington.
History buffs are welcome to also visit Chimney Point in Addison, Senator Justin S. Smith Morrill Homestead in Strafford, and the President Calvin Coolidge Birthplace and Homestead in Plymouth Notch, all open to the public on Bennington Battle Day free of charge.
For further information about locations and hours for these sites, visit us online at www.historicsites.vermont.gov or contact us by phone at (802) 828-3051.
About the Division for Historic Preservation
The Vermont State Historic Sites are owned and operated by the Division for Historic Preservation, which is part of the Department of Housing and Community Development.  The Department of Housing and Community Development (DHCD) works to support vibrant and resilient communities, promote safe and affordable housing for all, protect the state's historic resources, and improve the quality of life for Vermonters.
About the Agency of Commerce and Community Development
The mission of ACCD is to help Vermonters improve their quality of life and build strong communities. ACCD accomplishes this mission by providing grants, technical assistance, and advocacy through three divisions:  The Department of Economic Development, the Department of Tourism and Marketing, and the Department of Housing and Community Development. For more information on ACCD please visit: accd.vermont.gov.