August 5, 2016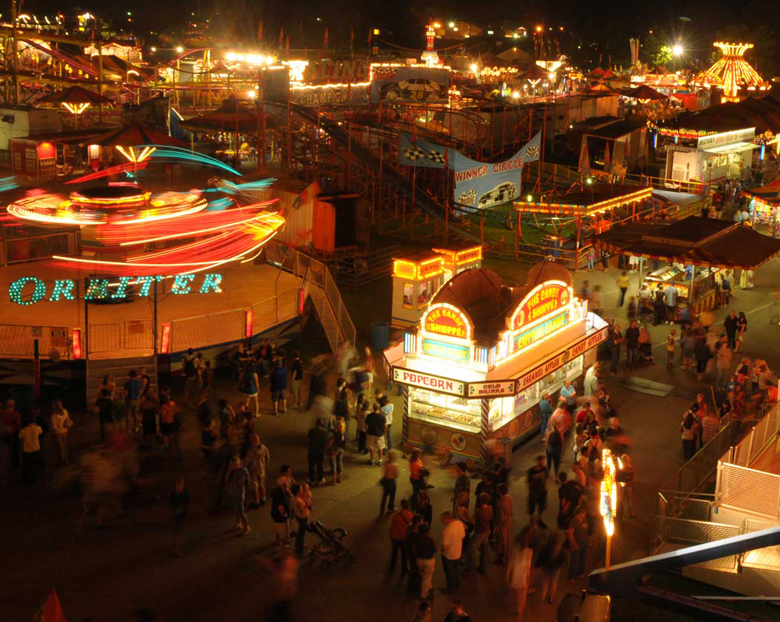 MONTPELIER, Vt. - August and September mark the busy season for county fairs and field days across Vermont.
While each fair has its own unique offerings, visitors will find a mix of farm life, animals, food and fun activities as they enjoy the later days of summer. Carnival rides, tractor pulls, and live entertainment can also be found at many of Vermont's fairs.
Highlights of Vermont's fair season includes performances by ZZ Top and Greg Allman at the Champlain Valley Fair in Essex Junction, a demolition derby at the Vermont State Fair in Rutland, and a tradition-steeped agricultural celebration at the Tunbridge World's Fair.
For a complete list of Vermont's state fairs and field days that are scheduled for August and September, please visit VermontVacation.com.
Franklin County Field Days
August 4-8, Highgate
An open dairy show, antique tractor pull, rides and live music are all part of this annual northern Vermont celebration.
Addison County Fair and Field Days
August 9-13, Vergennes
Vermont's largest agricultural fair; this event features a children's barnyard, pony and ox pulling, crafts and a tractor pull.
Danville Fair
August 12-13, Vergennes
Entering its 86th year, this fair on the Green offers rides, food, music, a horse and pony pull, and a fireworks show on the closing night.
Vermont State Fair
August 16-20, Rutland
The 171st edition of the annual fair features thrill and kiddie rides, a demolition derby, comedy night and various musical acts.
Orleans County Fair
August 17-21, Barton
"Agriculture at its best for 149 years," a pig scramble, wood carving shows, a farm hand exhibit and plenty of agricultural products are all part of this traditional fair.
Deerfield Valley Farmers' Day Fair
August 18-21, Wilmington
Now in its 99th year, fair highlights include a classic car show, a horse show, exhibit halls and family entertainment.
Caledonia County Fair
August 24-28, Lyndonville
Steeped in an agricultural background and entering its 161st year, this fair strives to be enjoyable and educational for its patrons. It also includes ATV racing and tractor pulls.
Champlain Valley Fair
Aug. 26 – Sept. 4, Essex Junction
Billed as "The Ten Best Days of Summer," this fair at the Champlain Valley Exposition features carnival rides, Vermont products and vendors, farm animals and no shortage of good food.
Bondville Fair
August 26-28, Winhall
The Bondville Fair bills itself as the oldest continuous fair in Vermont, running annually since 1797. Arts and crafts, a quilt hall, sugarhouse and tractor pulls are all part of the fun.
Guilford Fair
September 3-5, Guilford
Llamas, donkeys, mules and oxen are among the animals on display at this year's event. An antique tractor pull and exhibitor tents are other attractions.
Tunbridge World's Fair
September 15-18, Tunbridge
The Tunbridge World's Fair has run continuously since 1867 except in 1918, due to the great flu epidemic, and during World War II. Top events include harness racing, horse pulling, a swine show and live entertainment.
###