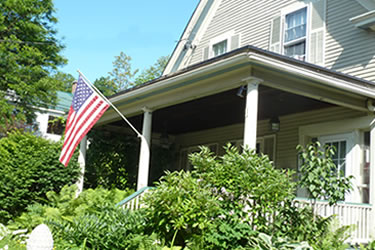 Vermont's law on equal treatment of housing and town bylaws requires municipalities to allow homeowners to add one Accessory Dwelling Unit (ADU) to their house as a permitted use as long as certain conditions are met. 
NOTE: Legislation enacted in 2020 made substantial changes to the State's planning and development law including changes affecting how municipalities regulate ADU's. The Department has created a checklist and updated our color brochure for homeowners interested in developing an ADU.
Resources for Homeowners
ADU Brochure for Homeowners (PDF)
Related Links
Residential Rental Agreements ("Landlord-Tenant Law")
Rental Housing Health Code (PDF)
Lead Paint Essential Maintenance Practices
Vermont Residential Building Energy Standards
Department of Fire Safety, Division of Fire Safety
Department of Environmental Conservation Regional Offices 
Other ADU resources
Brattleboro Area Affordable Housing (BAAH): Technical assistance to homeowners in Brattleboro and Bellows Falls who want to add an apartment to their house. BAAH has assisted in the creation of more than 50 new apartments.
Vermont State Housing Authority: VSHA was awarded funds in 2019 to develop a two-year ADU Pilot program in Montpelier. "ADUP aims to assist with the building and initial leasing of an Accessory Dwelling Unit (ADU), including help with pre-construction design and securing of finances, permitting and compliance, contractor procurement and project management, and finally, tenant selection and lease up procedures."
HomeShare Vermont:  Materials from a 2018 ADU workshop in Burlington co-sponsored by HomeShare Vermont, AARP-VT, and the Heineberg Community Senior Center.
Vermont Natural Resource Council:  Community Planning Toolbox for municipalities interested in encouraging ADU's.
Mad River Valley Housing Coalition: Serving the towns of Towns of Fayston, Warren, Waitsfield, Moretown and Duxbury published a Guide to Creating & Renting Accessory Apartments in the Mad River Valley.
New Hampshire Housing: Publishes ADU guidebooks for homeowners and municipalities for residents of that state that includes many helpful ideas for design, construction and budgeting as well as resources. Note that the statutes and regulations cited are not applicable in Vermont.