Revolutionary Weekend at Hubbardton Battlefield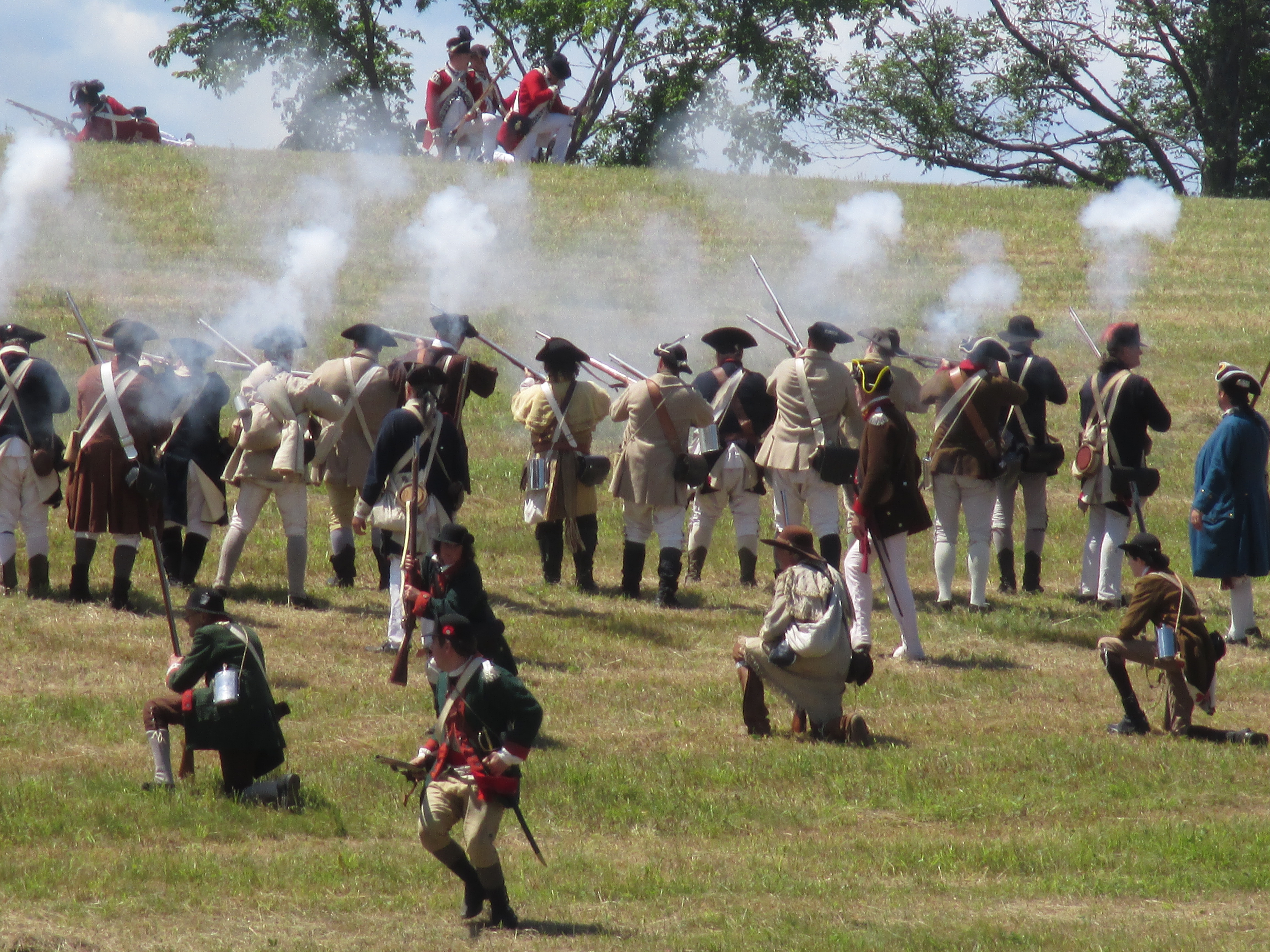 REVOLUTIONARY WEEKEND AT HUBBARDTON BATTLEFIELD
HUBBARDTON, Vt. –  The weekend of July 6-7, 2019 the Hubbardton Battlefield State Historic Site in Hubbardton, Vermont will host the annual full-scale, living history weekend commemorating the Revolutionary War battle fought here on July 7, 1777. Hours are Saturday from 9:30 a.m. to 5:00 p.m. and Sunday from 7:45 a.m. to 4:00 p.m., with the site closing at 5:00 p.m. 
Scores of reenactors from around the northeast will set up camps to present this colorful history pageant, the largest Revolutionary War living history weekend in northern New England. They honor the war's only battle fought solely in what would become Vermont. 
Narrated military tacticals will be held weather-permitting—Saturday at 2:00 pm and Sunday morning at 8:00 a.m. and 12:45 p.m. on the slope of Monument Hill. The Sunday morning battle, 242 years to the day, starts forming at 7:30 a.m.—this battle formation is the weekend's highlight. Muskets will sound in the distance, just before the soldiers emerge over Monument Hill. 
The weekend offers activities for all ages and interests. Visitors can walk through the camps; talk with reenactors; observe tactical and artillery demonstrations and camp life activities, and take guided camp and battlefield tours. Special activities are provided for children with sutlers' row providing a colonial shopping experience. Historians and reenactors will give lectures throughout the weekend. Reenactors are planning on several new presentations, showcasing their skills at recreating the past. The museum is open both days, with a shop that has a selection of books and other items relating to the American Revolution. Local groups provide a food stand on both days.  
Admission daily is $6.00 for adults and free for children under 15. There is nearby parking and a "people mover" from the parking area to the visitor center. The event is offered by the Vermont Division for Historic Preservation, reenactor groups, and the Hubbardton Historical Society, with support from other local organizations and businesses.   
The Hubbardton Battlefield State Historic Site is located on Monument Hill Road, 6 miles off VT Route 30 in Hubbardton, or 7 miles off exit 5 on US Route 4 in Castleton.  The site is regularly open 10:00 a.m. to 5:00 p.m., Wednesdays to Sundays through October 13. For further information and event listings, visit us online at www.historicsites.vermont.gov  and on Facebook at Vermont State Historic Sites. 
Photo: Reenactment at Hubbardton Battlefield State Historic Site.
###
About the Division for Historic Preservation
Hubbardton Battlefield State Historic Sites is owned and operated by the Division for Historic Preservation, which is part of the Department of Housing and Community Development (DCHD). DHCD works to support vibrant and resilient communities, promote safe and affordable housing for all, protect the state's historic resources, and improve the quality of life for Vermonters.
About the Agency of Commerce and Community Development
The mission of ACCD is to help Vermonters improve their quality of life and build strong communities. ACCD accomplishes this mission by providing grants, technical assistance, and advocacy through three divisions:  The Department of Economic Development, the Department of Tourism and Marketing, and the Department of Housing and Community Development. For more information on ACCD please visit: accd.vermont.gov.