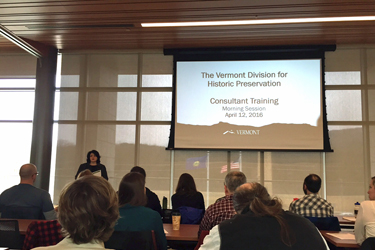 To be on the Qualified Consultant Lists, a consultant must submit a resume showing he/she meet the minimum qualifications of the Professional Qualifications (36 CFR Part 61) and attend Annual Consultant Training directed by the Division for Historic Preservation.
The 2018 Annual Consultant Training is scheduled for April 11, 2018.
For more information, please contact Debra Sayers at debra.sayers@vermont.gov or by phone at 802-828-3213.
Here are the materials from the 2016 Consultant Training.
2016 New Consultant Training
2016 All Consultant Training - Morning Session
2016 Architectural Session - Afternoon
2016 Archaeology Session - Afternoon
2016 - 2021 State Historic Preservation Plan
ACHP Affordable Housing fr7387
Citizens Guide - 2015
Consultant Training Helpful Links
Determination of Eligibility Form
Environmental Predictive Model
Historic Resources Document Package
Project Review Cover Form
Section 106 Process Chart
Telecom Criteria