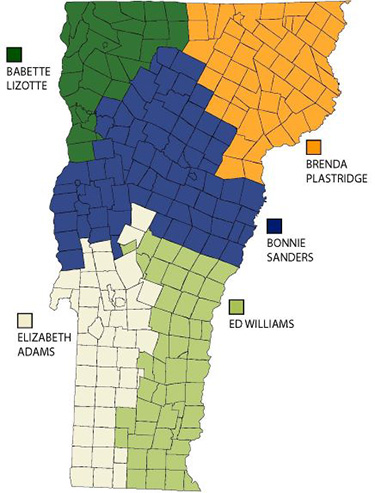 Our Procurement Counselors provide technical assistance to clients by conducting market research to identify past, present and future opportunities to sell products and services to the federal, state and local governments. We advise small businesses on strategies to maximize sales and work with clients to develop appropriate bid matching profiles in order to help your business achieve success. Our counselors are conveniently located throughout the state to serve your needs.
Director
Joanne has been the director of the Vermont Procurement Technical Assistance Center (VT PTAC) since 2017. She directs all operations of the PTAC program and manages its various activities. Joanne is an active member of the Association of Procurement Technical Assistance Centers (APTAC) as well as the Department of Defense Northeast Regional Council which helps her stay current on government acquisition trends. She also works closely within the Agency on developing plans that include the PTAC as a part of the State's economic retention and expansion goals through government contracting.
Joanne has an extensive background in federal, state and local government contracting. As a Certified Procurement Professional serving a large portion of the State for 13 years, she provided one-on-one assistance to hundreds of distinct Vermont businesses to help them connect with government contracting opportunities. She began her professional career working for the Vermont Mutual Insurance Company, then started her career in public service in the State of Vermont Tax Department prior to joining VT PTAC. Joanne was born in Connecticut but has spent most her life in Central Vermont, where she resides with her husband and beautiful daughters.
Procurement Counselor
(Chittenden, Franklin and Grand Isle Counties)
Babette has been with VT PTAC since 2012 assisting businesses in Northwestern Vermont with government contracting processes. Her 38 years of experience as both a federal government employee for all branches of the Department of Defense, and as a Prime Contractor in Purchasing and Logistics manager positions for shipboard installation/repair for Navy ships, make her a formidable counselor for Vermont businesses looking to market their products or services to federal, state, and local governments. Babette also owned a company prior to moving to Vermont, managing the day-to-day functions, which helps her understand the challenges faced by business owners. She enjoys gardening and traveling.
Procurement Counselor
(Caledonia, Essex and Orleans Counties)
Brenda works with businesses in the Northeast Kingdom (NEK). She came to VT PTAC in 2009 with 36 years of experience working for the federal government in the areas of grants management, contracting and certification programs. This knowledge allows her to skillfully assist her clients with federal, state and municipal contracting and subcontracting opportunities, as well as applications for certification programs. Brenda values her community and personal interactions. She aims to simplify the bidding process for NEK businesses and to assist them in submitting compliant proposals. Brenda is a fervent basketball fan and enjoys visiting family and friends throughout New England.
Procurement Specialist
(Addison, Lamoille, Orange and Washington Counties)
Bonnie has been working with businesses in Central Vermont since 2018. Before joining VT PTAC, she spent 12 years in state procurement positions, notably with VTrans and Buildings and General Services. Bonnie previously owned two small businesses in Washington County and worked many years in the construction/industrial supplier fields in Vermont and North Carolina. This background provides her with the unique ability to see all sides of the government contracting processes to her clients' benefit. Bonnie takes a rounded interest in her clients and guides their focus towards steady growth through government contracting. Bonnie is proud of her Vermont Indigenous heritage. She and her husband raised five children in Vermont and are blessed with 11 grandchildren.
Procurement Counselor
(Bennington and Rutland Counties)
Elizabeth has been counseling businesses in Southwestern Vermont on government contracting since 2015. Elizabeth is well versed in all aspects of government procurement but excels with DoD NIST cybersecurity compliance, HUBZone certification and capability statements. She has been in public service for 16 years, primarily managing an emergency communications center for the Vermont State Police. Former private sector roles include Software Analyst, Paralegal, and Controller. Elizabeth graduated from the University of Rochester with a double major in Economics and History. This 8th generation Vermonter enjoys cooking, gaming and her black lab is never far from her side.
Procurement Counselor
(Windham and Windsor Counties)
Ed assists businesses in Southeastern Vermont. He joined VT PTAC in 2012, after 23 years working for corporate architecture firms, including his own consulting business, in Massachusetts, California and Vermont. Ed returned to Vermont for the last eight years as a small business owner. Ed's background allows him to provide his clients with a full range of counseling from targeted marketing, placement and mining for contract opportunities, to contract acquisition, payment procedures, and contract performance. He understands the challenges small businesses face in municipal, state and federal government contracting and assists clients with reducing large problems into manageable morsels. Ed believes that success for businesses in government contracting doesn't just happen; it is forged with vision driven hard work.