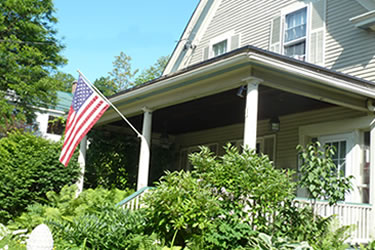 Vermont's law on equal treatment of housing and town bylaws allows homeowners to add an apartment to their house.
This updated brochure includes information about Residential Building Energy Standards (RBES) and statutory changes allowing municipalities to regulate ADU's in flood and fluvial erosion hazard areas.
Other ADU resources
Vermont Natural Resource Council's Community Planning Toolbox also has helpful information for communities addressing the requirements of this law, including a case study from Montpelier's One More Home accessory dwelling unit program which ran from 2006 to 2009. 
Brattleboro Area Affordable Housing (BAAH) offers technical assistance to homeowners in Brattleboro and Bellows Falls who want to add an apartment to their house, and after the apartment is complete up to $5,000 toward the cost of construction .  BAAH has assisted in the creation of more than 50 new apartments since 2004.
In 2009 the Mad River Valley Housing Coalition serving the towns of Towns of Fayston, Warren, Waitsfield, Moretown and Duxbury developed an accessory apartment booklet called Open a New Door: A Guide to Creating & Renting Accessory Apartments in the Mad River Valley.