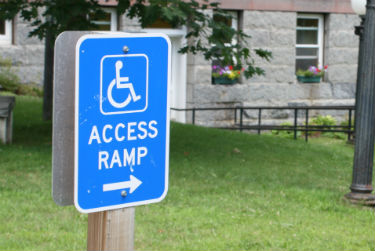 What is "Fair Housing"
Fair Housing is the right to equal opportunity in the rental, sale, and financing of housing under federal, state and local laws.
Who is protected?
The Federal Fair Housing Act was part of the Civil Rights Act of 1968, making it illegal to discriminate on the basis of race, color, religion, national origin, and sex. In 1988, Congress added familial status and disability to the categories protected under that law. Vermont's Fair Housing Act is similar to federal law with five additional protected categories: marital status, age, sexual orientation, gender identity, and receipt of public assistance
Rental Discrimination in Vermont
VPR Vermont Edition "Rental Discrimination by the Numbers": Host Jane Lindholm speaks with Housing Discrimination Law Project Director Rachel Batterson about the findings of a recently released report about rental discrimination in Vermont. Then Angela Zaikowski, owner of the Vermont Apartment Owners Association and Ted Wimpey, Fair Housing Project director for the Champlain Valley Office of Economic Opportunity, discuss Vermont's fair housing laws and steps to reduce rental discrimination.
Fair Housing Month
April is Fair Housing Month. Read the Proclamation for Fair Housing Month 2016.
Housing and Communities Show: Vermont HUD Field Officer Mike McNamara and Karen Richards (now State Human Rights Commissioner) and Rachel Batterson from Vermont Legal Aid discuss the Fair Housing Act and Fair Housing Month following a screening of the film "A Matter of Place" on CCTV.
Vermont Affordable Housing Show: Ted Wimpey and Erhard Mahnke of the Vermont Affordable Housing Coalition discuss Fair Housing on CCTV.
Resources
 Fair Housing Project
The CVOEO Fair Housing Project (FHP) works to eradicate housing discrimination in Vermont through education, outreach and enforcement of fair housing laws. The FHP has conducted several studies funded by HUD on fair housing rental and sales practices in Vermont. The FHP advocates for victims of discrimination and conducts screening to help determine whether or not a case has merit and makes appropriate referrals to enforcement agencies. In addition, the FHP has created public awareness campaigns including bus advertisements, radio and televised public service announcements, and educational trainings.
CVOEO Fair Housing Handbook (pdf)
Vermont Human Rights Commission
Vermont Human Rights Commission enforces a number of anti-discrimination laws including the Fair Housing and Public Accommodations Act, and Fair Employment Practices Act (when the employer is a State agency). The Human Rights Commission can be reached at 1-800-416-2010.
The Housing Discrimination Law Project
Vermont Legal Aid, Inc. conducts fair housing testing; investigates housing discrimination complaints; represents individuals and groups in housing discrimination cases; conducts fair housing training and education; and advocates for inclusive, sustainable communities.  It also makes referrals to the U.S. Department of Housing and Urban Development (HUD) and the Vermont Human Rights Commission. For more information about fair housing law, visit Vermont Law Help or call 1-800-889-2047.  
Vermont Center for Independent Living
VCIL's mission is to empower Vermonters with disabilities, deaf Vermonters, and others to tear down the physical, communication, and attitudinal barriers that keep us from realizing our full human potential.
Know Your Rights! 
The following two documents explain the rights of the elderly and people with disabilities in mobile home parks, and the rights of people with disabilities to have assistance animals.
"Mobile Home Parks and Vermont's Fair Housing and Public Accommodations Act"
"Assistance Animals in Rental Units"
Read the 2012 Analysis of Impediments to Fair Housing Choice in Vermont