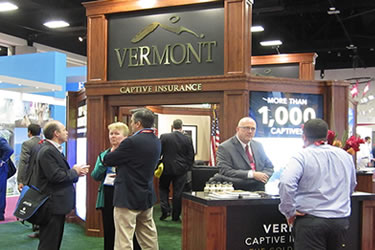 With a clearly defined, rigorously honed strategy, and dedication to excellence, Vermont has become a global player in the captive insurance industry and is the country's leading onshore captive insurance domicile. 
Currently, there are more than 1000 captive insurance companies licensed in Vermont with over $25 billion in gross written premiums flowing through the state in 2014. Many of the world's leading companies have selected Vermont as their home for their captives; Vermont holds a top position in hospital captives for medical malpractice coverage, and in risk retention groups.
Captive insurance is a key strategic initiative for Vermont, and priority industry sector of Governor Scott and Vermont's Legislature.  Our laws and regulations are specifically designed to be strong and stable, yet flexible to capitalize of industry trends and requirements to keep pace with industry needs.
Vermont's 35 year track record and leadership in the captive insurance sector is also based upon:
An infrastructure comprised of the world's leading captive management professionals, attorneys, bankers, accountants, actuaries, and investment managers and the largest captive trade association, the Vermont Captive Insurance Association.
The most experienced and knowledgeable regulatory team.   Applications are processed quickly; exams are conducted cost effectively and via experienced examiners, thereby minimizing cost and time.
Choosing the right captive insurance domicile is important for the on-going success of your captive insurance company. A captive is part of a long term risk management solution and the regulator and jurisdiction chosen should be a partner in your success.  It's no accident that 48 of the Fortune 100 companies, and 18 of the Dow top 30 companies, choose Vermont as their captive domicile.