Vermont Department of Tourism and Marketing Announces Next Round of Stay to Stay Ski Weekends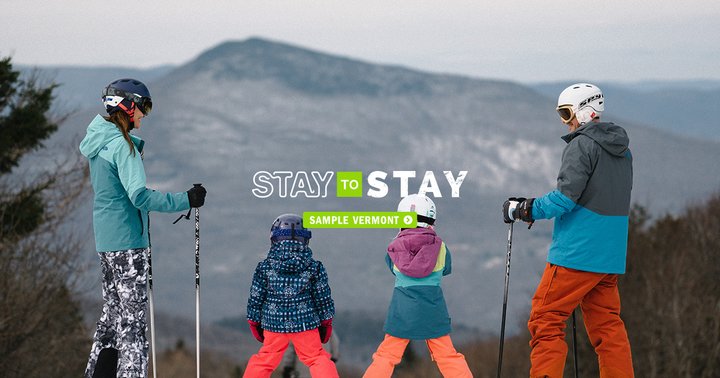 Vermont Department of Tourism and Marketing Announces
Next Round of Stay to Stay Ski Weekends
Montpelier, Vt. — The Vermont Department of Tourism and Marketing (VDTM) has announced the next set of dates for Stay to Stay Weekends, kicking off a new year of the economic development tourism program that assists tourists looking to move to Vermont permanently.
The latest round of four Stay to Stay Weekends partner local communities with ski resorts to offer winter visitors a chance to explore a move to Vermont, while skiing and riding at Vermont mountains. The communities of Bennington, Brattleboro, Newport, and Rutland will be hosting the Stay to Stay Ski Weekends.
The four Stay to Stay Ski Weekends are:
December 13-16, 2019: Newport and Jay Peak
February 21-24, 2020: Brattleboro and Mount Snow
February 21-24, 2020: Bennington and Bromley Mountain
March 13-15, 2020: Rutland and Killington
"Expanding our workforce is one of the most impactful things we can do to grow our economy, make Vermont more affordable and protect the most vulnerable, and that's why it's a top priority of my administration," said Governor Phil Scott. "There is no one solution to our workforce challenge, but innovative programs like Stay to Stay are making a difference."
"The Stay to Stay Ski weekends are a great partnership between state, local, and private entities all working in tandem to welcome visitors interested in making Vermont their home," said Heather Pelham, Acting Commissioner of the Vermont Department of Tourism and Marketing.  "The weekends are a unique way to draw attention to Vermont's outstanding quality of life and the wide variety of outdoor recreation and employment options available. Vermont cities, towns, and businesses are stepping up to demonstrate to potential new residents the benefits of living and working in our vibrant downtowns and rural communities."
"We are thrilled to partner with VDTM to offer potential residents the chance to enjoy Vermont's world-renowned ski mountains," said Amy Laramie, director of communications, events and special projects at Killington. "This will be our second year participating with VDTM and the Rutland Region Chamber of Commerce. We look forward to showing visitors that they can work, play, and enjoy a high quality of life right here in the Rutland county."
The weekends begin with a Saturday après-ski reception at the resort hosted by the local chamber of commerce or community group. Throughout the weekend visitors can ski and ride and explore the region at their own pace to get a feel for living in the community. On Monday, participants meet with local employers, realtors, professionals, and community leaders.
The Stay to Stay program, which launched in 2018, has welcomed more than 200 people to Vermont in 2019 to explore a move to the state.  To date, 15 people have made the move and a recent survey indicates more than 50 people are actively job and house hunting in the state. Over 70% of survey respondents cited access to outdoor recreation as their top reason for wanting to move to Vermont.
For more information about Stay to Stay Weekends, visit www.VermontVacation.com/staytostay.
###
About the Vermont Department of Tourism and Marketing
The Department of Tourism and Marketing promotes Vermont's travel, recreation, cultural and historic attractions, as well as the state's goods and services, in coordination with public and private sector partners.  The department also works to market to a global audience in a manner consistent with the values and traditions of the state for the economic benefit of all Vermonters. Vermont's tourism sector supports 32,000 local jobs and contributes $2.8 billion in economic activity each year. VermontVacation.com.
About the Vermont Agency of Commerce and Community Development
The Vermont Agency of Commerce and Community Development's (ACCD) mission is to help Vermonters improve their quality of life and build strong communities. ACCD accomplishes this mission by providing grants, technical assistance, and advocacy through three divisions:  The Department of Economic Development, the Department of Tourism and Marketing, and the Department of Housing and Community Development. For more information on ACCD please visit: accd.vermont.gov.