Vermont State Historic Sites Open for the 2016 Season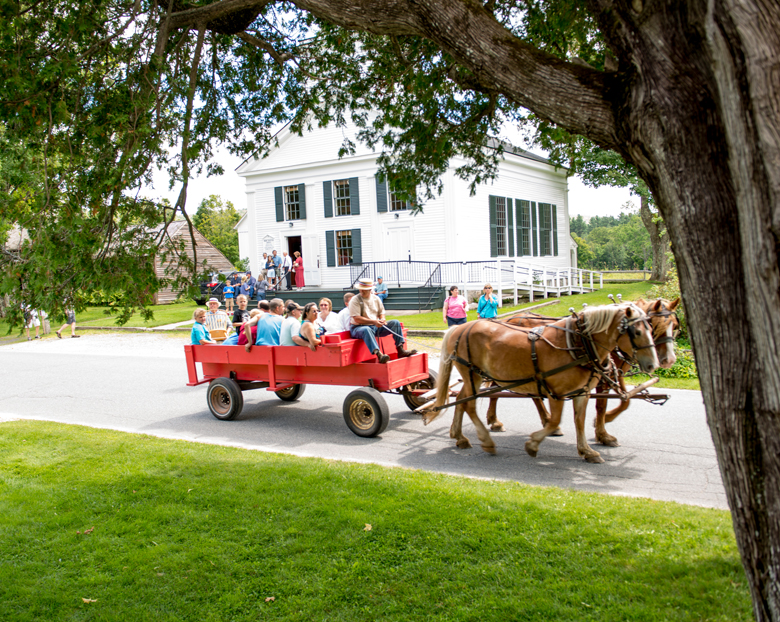 Presidential Gifts, A Monumental Party, and Special Exhibits
Montpelier, Vt.— When President Calvin and First Lady Grace Coolidge were preparing to leave the White House in 1929, the press noted the great volume of gifts that required packing. There were scores of personal and humble presents, such as mittens, walking sticks, and coverlets that American citizens had made for the president and first lady.
Examples of these, along with resplendent gifts of state from around the world, are featured in the new exhibit Expressions of Esteem: The Coolidge Presidential Gifts, opening at the President Calvin Coolidge State Historic Site in Plymouth, Vermont, on Saturday, May 28.
Memorial Day weekend also marks the opening of several other state-owned historic sites, each with special events and exhibits planned for the 2016 season:
The Lost Architecture of Windsor, Vermont: Masterpieces of Asher Benjamin. One of early America's premier architects, Asher Benjamin designed the meeting house and three private homes in Windsor in the late 18th century. The meeting house survives, as does an exquisite model of his Dudley Chase House. The model is part of this special exhibit organized by Historic Windsor & The Preservation Education Institute.
Hundreds of re-enactors will gather on the Hubbardton Battlefield in Hubbardton, July 9-10, to commemorate a 1777 battle between the Green Mountain Boys and English and German forces.
Chimney Point State Historic Site in Addison will feature the exhibit, Observing Vermont Architecture. This traveling exhibit from the Middlebury College Museum of Art showcases Vermont's architectural heritage, from Revolutionary times to modern day, with photographs by Curtis B. Johnson. The photographs are from the 2014 book, Buildings of Vermont, by Johnson and Architectural Historian Glenn M. Andres. The exhibit runs through August 7.
A monumental birthday party featuring cake, ice cream, music, kids' activities, a period fashion show and lots of surprises, will be held on August 20 at the 306-foot Bennington Battle Monument in Bennington. This event, along with new exhibits, mark the 125th anniversary of the beloved landmark.
At Mount Independence in Orwell, the annual Soldiers Atop the Mount weekend will be held September 10-11. This year's event includes a 5K "Strong Ground" walk on the 10th to celebrate the 50th anniversary of the public trail system at this remarkable Revolutionary War site.
The President Chester Arthur State Historic Site in Fairfield will open to the public on July 4.
A visit to one of Vermont's State Historic Sites makes for a terrific family day trip. Most of the sites have associated trails that satisfy those wanting to enjoy the outdoors. Exhibits, programs and events at each of the sites provide a great variety of opportunities to experience Vermont's "history where it happened."
For more information about hours of operation and a calendar of events, visit www.HistoricSites.Vermont.gov. Join the conversation at Vermont State Historic Sites on Facebook.
###