January 12, 2018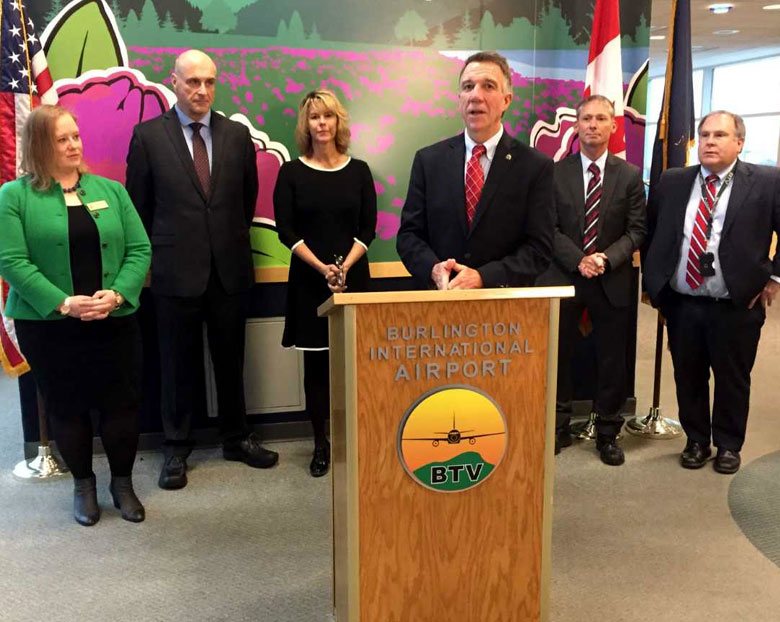 MONTPELIER, Vt. – Governor Phil Scott today announced the Vermont at-par lodging promotion for passengers who travel from Toronto to Burlington aboard Toronto-based Porter Airlines.
In a promotion created by the Vermont Department of Tourism and Marketing, more than 20 lodging properties in Burlington, the Stowe area and the Mad River Valley are offering Porter Airlines' passengers lodging packages at a rate equivalent to the value of the Canadian dollar. Details and rates will vary for each participating property.
"Lodging promotions, like what we're announcing today with Porter Airlines, encourage more visitation from our Canadian neighbors, which helps boost our tourism sector and grow our economy. They also serve to strengthen ties with our Canadian neighbors," said Gov. Scott. "I appreciate the work of my team, the lodging properties, chambers and businesses that helped launch this initiative."
Strengthening relationships with our Canadian neighbors and growing the State's economy through continued partnerships with Canadian businesses and governments is a priority for the Scott Administration. Vermont and its Canadian neighbors share priorities related to economies, tourism and renewable energy. This new partnership with Porter Airlines is another important step in facilitating cross-border travel and trade.
The Vermont Department of Tourism and Marketing continues to commit marketing resources in Canada, a country that accounts for 87 percent of all international visitation to Vermont and is the state's largest trade partner. Annually, close to 2 million Canadians visit Vermont, spending approximately $200 million on tourism. This past summer, the Vermont Department of Tourism and Marketing launched a Canadian "Welcome" campaign to commemorate the 150th anniversary of Canada Day in a series of video messages from Sen. Patrick Leahy, Gov. Scott and Commissioner Knight.
"We are pleased that so many of Vermont's finest lodging properties are partnering with the Vermont Department of Tourism and Marketing and Porter Airlines to offer savings to in-bound Canadian travelers flying to Vermont on Porter Airlines," said Vermont Department of Tourism and Marketing Commissioner Wendy Knight. "We look forward to welcoming the many Canadian visitors who will travel to Vermont on Porter Airlines this winter to enjoy Vermont's ski resorts and other tourism destinations and attractions."
Porter Airlines currently offers seasonal, direct flights from Toronto's Billy Bishop Toronto City Airport to Burlington International Airport in South Burlington. Porter's flight schedule will continue for the winter season through March 27, 2018.
For more information on the Porter Airlines lodging promotion, please visit VermontVacation.com.