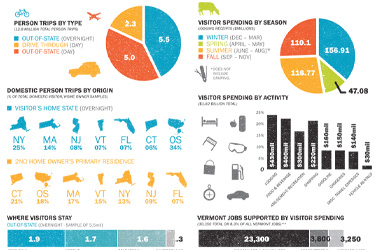 2013 Vermont Tourism Industry Fact Sheet
Highlights from the 2013 study include:
Visitors made an estimated 12.8 million person trips to Vermont for leisure, business or personal travel.
Direct spending by visitors and vacation home owners for goods and services totaled $2.49 billion.
Visitor spending supports an estimated 30,000 jobs for Vermonters (approximately 8.0 percent of all jobs).
These numbers and more are available on our 2013 Vermont Tourism Industry Fact Sheet (PDF).
2014 Visitor Intercept Study Overview
This is a one-page overview highlighting the results of a two-year study of visitors to Vermont State Parks, visitor centers and attractions. The study was conducted by the University of Vermont Tourism Research Center from, June 2012 through February, 2014.
Download the full report (PDF).