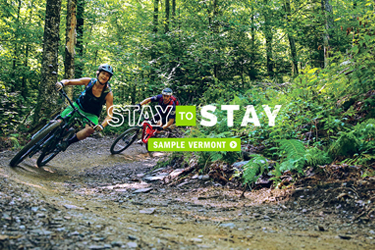 2018 Stay to Stay Pilot Program Report
Vermont Department of Tourism & Marketing launched the Stay to Stay Pilot Program in 2018, arranging networking events for people interested in moving to the state. This report looks at results of that pilot program and survey data from participants.
You can find out more about Stay to Stay and the expansion of the program in 2019 on the Vermont Vacation Website.
2017 Tourism Benchmark Study
The impact of tourism on Vermont's economy is significant. In 2017, tourism brought in more than $2.8 billion up from $2.6 billion in 2015. Check out the summary and the full 2017 benchmark study below for more insight on visitation, the winter season, second homes, and the impact of tourism on southern Vermont.
2017 Benchmark Report Highlights from Sugarbush Resort
​Watch Governor Phil Scott, Sugarbush Resort's Chairman and CEO, Win Smith, and Vermont Department of Tourism and Marketing Commissioner Wendy Knight announce the 2017 Benchmark Study results. Learn about Vermont's total number of out-of-state visitors and the impact visitor spending has on the state's economy and Vermont tax payers.
Economic Impact of Biking and Walking
This 2012 video, developed through the study on the Economic Impacts of Walking and Biking, reflects many layers of the Agency of Commerce and Community Development's efforts — branding, economic development, community planning, and tourism.
Download the full report (PDF).
Meals, Rooms and Alcohol (MRA) Sales Statistics
The Vermont Tax Department site has a statewide, county and town taxable receipts data reported monthly, quarterly and by both calendar and fiscal year.