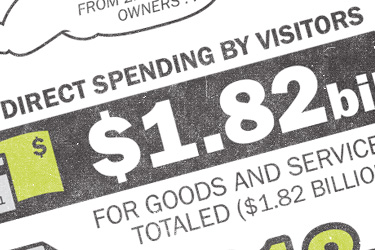 2015 Benchmark on the Impact of Visitor Spending
Vermont saw substantial growth in visitor spending during 2015. The 2015 Visitor Impact Benchmark Study (PDF) outlines this growth and provides updated metrics about lodging, spending, length-of-stay, traveler origins and the significant impact of vacation home owners on Vermont's tourism economy.
Visitor Spending & Vermont's Economy: Infographic Presentation
The key metrics and measures for Vermont's hospitality and recreation industry are presented in a colorful graphic explanation.
Vermont's Tourism Industry - Video
This short film highlights the economic impact of tourism in Vermont with 2011 research and interviews with industry professionals.
Economic Impact of Biking and Walking
The 2012 video developed through the study on the Economic Impacts of Walking and Biking reflects many dimensions of the efforts in this agency – branding, economic development, community planning and tourism.
​
Download the full report (PDF).
Meals, Rooms and Alcohol (MRA) Sales Statistics
The Vermont Tax Department site has a statewide, county and town taxable receipts data reported monthly, quarterly and by both calendar and fiscal year.