ACCESS THE VERMONT BARN CENSUS DATABASE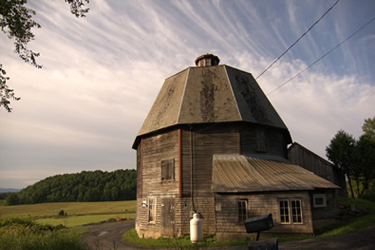 How many barns are in Vermont? In what kind of condition are they? Are significant numbers lost each year? What can be done to preserve these icons of our history and landscape?
The Vermont Barn Census, created in 2009, is a statewide census of Vermont's historic barns and agricultural outbuildings that will help answer these questions and lay the foundation for efforts to preserve these important historic resources.
So far, volunteers for the Vermont Barn Census have recorded information on barns from Southern Vermont to the Northeast Kingdom to Isle La Motte. We have heard from individuals all over the state on the past and future of Vermont's agricultural heritage. Since 2009, nearly 3,000 barns and agricultural buildings have been recorded.
Get Involved and Help Us with the Barn Census
Taking part in the Vermont Barn Census could not be easier. Survey one barn, several outbuildings, or a whole farmstead. Volunteers are welcome to participate at their convenience. Students from elementary to high school are especially encouraged to participate. No prior experience in agriculture, construction, engineering, architecture, or history is required.
As a Barn Census volunteer, you will explore rural Vermont to find historic barns and agricultural buildings. The Barn Census is also a great way to get to know your community better. You will be amazed by what you can find when you explore the back roads of Vermont and talk with your farming neighbors. Take photos and make notes about the building's features, history, use(s), and current condition. Census forms can be completed by individuals or by groups, and submitted electrically.
We intend the Barn Census to be an important first step in the preservation of these threatened resources. While inclusion in a survey does not guarantee the preservation of a structure or building, it raises awareness of the value of agricultural buildings and the importance of continued maintenance and uses.
The Barn Census is a project of the Vermont Division for Historic Preservation, University of Vermont Historic Preservation Program, Historic Windsor's Preservation Education Institute, Save Vermont Barns, Vermont Housing and Conservation Board, and Preservation Trust of Vermont.