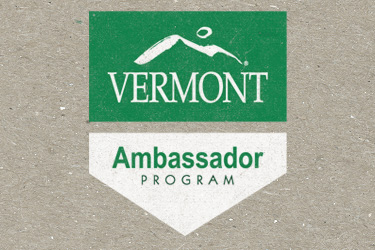 Three levels of participation in the Vermont Ambassador Program are possible.
BASIC
Individuals register for the on-line training program. Upon registration, each user will be given a password and will have three months to work through the classes at their own rate. At a minimum, students will need access to the internet and spend four hours to complete the classes and quizzes. Sign up now.
AMBASSADOR CERTIFICATION
Individuals who have completed the basic Ambassador Training can earn official Vermont Ambassador Certification by successfully completing a series of tests designed by the Vermont Information Center Division. Completion of the tests will demonstrate a basic understanding of Vermont and what makes it special to visitors, good customer service skills, and how to utilize available resources to locate tourism information. Certified Ambassadors receive a certificate and pin. Sign up now.
VERMONT AMBASSADOR INFORMATION CENTER DESIGNATION
Businesses, civic and non-profit organizations can earn designation as a Vermont Ambassador Information Center. Information Centers receive signage, travel information resources, a free supply of state maps and seasonal Vermont Vacation Guide magazines for public distribution; Vermont Ambassador Information Center promotion (and regular communications from the Vermont Department of Tourism & Marketing with information about marketing, promotions, and business opportunities). To earn designation the business must commit to front-line staff managers earning Vermont Ambassador Certification and requiring selected front-line staff to complete basic Ambassador Training. Learn more here.