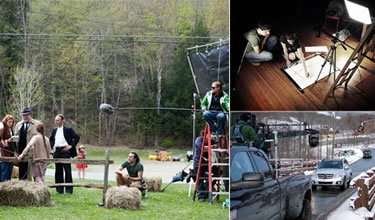 Since D.W. Griffith shot "Way Down East" (1920) along the Connecticut and White Rivers in Hartford, Vermont has been a backdrop to some to some of the cinema's greatest luminaries.
These include Alfred Hitchcock (The Trouble with Harry, 1955) to Robert Zemeckis (What Lies Beneath, 2000), Tim Burton (Beetlejuice, 1998) to Lasse Halstrom (Cider House Rules, 1999). Vermont is also home to cherished local filmmakers including John O'Brien (Man With A Plan, 1996), Nora Jacobsen (The Vermont Movie, 2013), and Jay Craven (Northern Borders, 2013).
Film and new media comprises the motion picture arts and sciences across rapidly evolving platforms, from theatrical release to mobile devices. Vermont is home to a talent-base of writers, producers, directors, technicians and actors who produce outstanding fiction, documentary, and commercial work – from feature films to graphic animations.
Resources
Photos courtesy: (T) Burlington City Arts, (L) Jay Craven/Kingdom County Productions, (TR) Mondo Mediaworks, (BR) James Valastro Productions