The Vermont EB-5 Regional Center: Experience the Vermont Difference
Established in 1997, the Vermont EB-5 Regional Center is a USCIS Designated Regional Center. The regional center is run by Vermont Agency of Commerce & Community Development (ACCD); in partnership, with the Vermont Department of Financial Regulation (DFR) (collectively "Vermont Regional Center" or "VRC"). 
VRC's mission statement is unambiguous – enhance the Vermont business climate by facilitating, promoting and creating commercial and business opportunities within Vermont to contribute to the economic viability of and benefit the growth of the State.  This is in marked contrast to other for-profit regional centers.
As a state run, statewide EB-5 regional center, Vermont offers businesses unique advantages including but not limited to the following:
VRC provides the oversight and infrastructure required by USCIS allowing businesses located in Vermont, or seeking to locate in Vermont, to access the EB-5 program without added cost or administrative burden.
Businesses who are approved for an EB-5 project under the Vermont EB-5 Regional Center benefit from the added credibility that a state run EB-5 regional center provides.
Investors are ensured that Vermont EB-5 Regional Center projects are monitored by an independent and qualified regulatory authority—The Vermont Department of Financial Regulation.
In addition, nearly the entire state qualifies as a Targeted Employment Area (TEA), which currently requires a $500,000 minimum investment instead of the $1 million investment in non-TEAs.
Why Do EB-5 Investors Choose Vermont?
State Oversight — VRC monitors all Vermont EB-5 projects for compliance with USCIS EB-5 regulations and policy guidance. This partnership reaffirms Vermont's dedication to first-rate regulation and exceptional oversight in all aspects of financial services. 
Reviews — State officials visit the EB-5 projects on a quarterly basis to monitor not only the progress of development, but also to provide any kind of help and support that an EB-5 project may need to further implement the visa program. 
Pre-approval of Projects — VRC officials must review and pre-approve each and every EB-5 Project to utilize the Vermont State Regional Center designation. Upon approval of each EB-5 project, VRC requires the business to enter into a "Memorandum of Understanding" with the State which imposes strict covenants and obligations upon the business.
Credibility — VRC has a long record of success and takes a long view for multiple successful projects, rather than seeking a single lucrative project. Moreover, Vermont's EB-5 programs create jobs right where the policy makers want them, not in a gerrymandered geography linking high and low unemployment areas, but right where the jobs are needed. 
Vermont EB-5 Visa Program Project Criteria
Several advantages differentiate the Vermont EB-5 Regional Center's projects from other EB-5 Visa projects across the U.S., making approved Vermont EB-5 Visa projects attractive options for foreign investors seeking visas for themselves and their immediate family members. Many EB-5 visa investors seek the program so their children may attend college in the United States. For foreign investors looking for freedom and flexibility to live, work or retire in the United States, in a way accommodating to their lifestyles, the EB-5 Visa investor category can provide an excellent opportunity to accomplish this goal by obtaining visa green cards.  Immigrating to the United States via the EB-5 visa allows an investor and his or her family to live, work or retire anywhere within the United States.  An EB-5 visa green card provides permanent residency for the applicant, his or her spouse and any offspring under the age of 21.
 Minimum investment per investor is $500,000 (opposed to $1 million for non-TEA  EB-5 projects).
The EB5 Visa project must create 10 direct and indirect jobs per investor (opposed to 10 direct jobs for "Direct" EB-5 projects).
Investor Flow Chart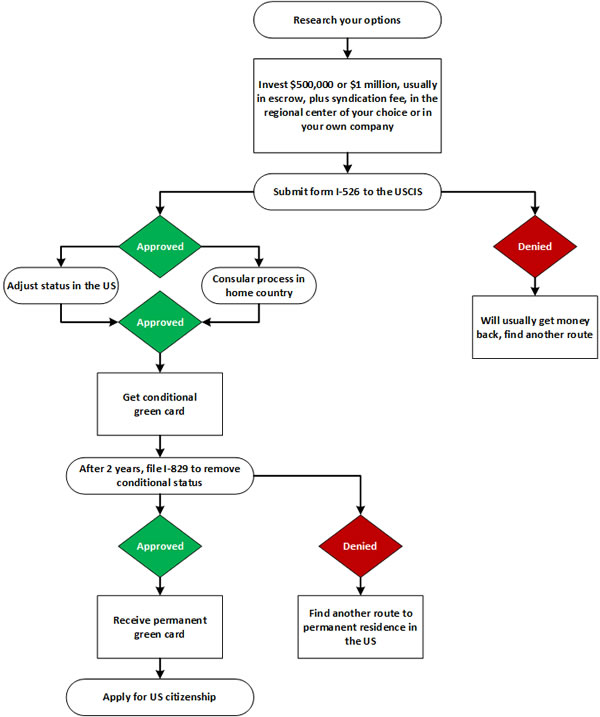 Getting A Project Started
VRC provides the opportunity to expand or locate within Vermont with a low cost and efficient capital resource program.  VRC currently has a variety of approved EB-5 Regional Center projects currently seeking EB-5 Visa investors. VRC is well positioned to take advantage of this program to support growing businesses and has established an outstanding track record. The first step is determining if your project is eligible for the EB-5 Visa program.
 
Your business may be eligible for the EB-5 Visa program if:
It is a for-profit enterprise;
The project is an at-risk investment;
And, if your business qualifies as a "troubled business", additional incentives may be available if the business has had a net loss of at least 20% of net worth during the 12 or 24 month period prior to EB-5 visa project approval.
Instructions For Potential EB-5 Projects
At the earliest possible stage, contact VRC to disclose your interest in an EB5 investment project and receive further detailed instructions regarding required materials for proposed project review.
At the earliest possible stage, contact securities and immigration counsel experienced in working with EB5 projects that have been accepted by a USCIS approved regional center. 
Disclaimer: The State of Vermont, the Department, and any of its officers or employees do not warrant the accuracy, reliability, or timeliness of any information published in this web site, do not endorse any products or services linked to or from this web site, and shall not be held liable for any losses caused by reliance upon the accuracy, reliability, or timeliness of such information, or losses caused by or related to such products or services. Portions of the information contained in this web site may not be correct or current. Any person or entity that relies on any information obtained from this web site does so at his/her or its own risk.
 *Warning: The Vermont EB-5 Regional Center is NOT affiliated in any way with the following private business: Rapid USA Visas, Inc. of Naples, Florida or its website "EB5Vermont.com"